Save $ and win a netbook with PDF Annotator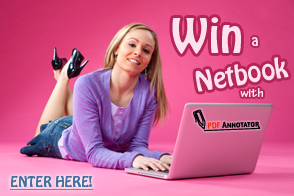 Grahl Software is running one deal and one contest to help you out with back-to-school expenses (even if you don't have any). The deal is $8 off your purchase of PDF Annotator. In case you don't know, PDF Annotator is a feature-rich application that enables you to mark up a PDF on your Tablet PC. Great for taking notes on top of a lecture syllabus or marking key points in your PDF textbook. Coupon code BACK2SCHOOL knocks the price down to $21.90.
Their contest is to win a Samsung NC10 netbook in your choice of pink or blue (and giant-sized judging from the photo, or maybe the girl is tiny). Seems an odd pairing given the NC10 lacks pen input, but it's free to the winner, so that's cool by me. Details after the jump.
Back-to-School with PDF Annotator: $8 Off
To help you getting started, we will have PDF Annotator Student Licenses on sale for only $21.90 until September 30. That's $8 off!
Use coupon code BACK2SCHOOL at checkout to get the discount.
With PDF Annotator you can …
Take notes during lectures
Mark-up your text books
And much more, learn about it.
Hint for the grown-ups: This coupon code will also work for our regular licenses!!
Win a Netbook with PDF Annotator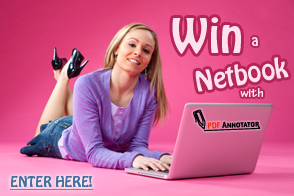 Also part of our Back-to-School promotion, we get you the chance to win a slick Samsung NC10 Netbook in your color of choice!
You may want to distinguish yourself from all the others, schlepping around heavy and darn ugly laptops at school. So we don't only get you a state-of-the-art netbook, we even give you the choice to get it in pink or in blue! Now, that was what you were looking for, right?
Be the first to enter for our Netbook, it will be given away by October 1st.
BTW, we already have bets running, if it's going to be a blue or a pink one!