Save the Frogs! Pre-order a FrogPad and save $35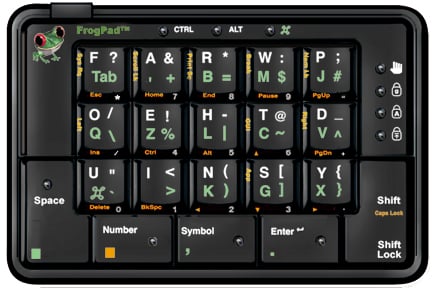 If you've been thinking about trying your hand (non-plural) at the one-handed FrogPad keyboard, now's your time to buy, or rather, pre-order. Put in your order for one of the next run of FrogPads and save $35.
Steve S. passes on word through the forum that FrogPad has hit a rough patch due to the economy. They've got lots of requests for more, but their stock is sold out, so they're going the pre-order route to ensure they can afford a new manufacturing run of the USB models, lefty and righty. Just 600 pre-sales and the FrogPads will start to roll off the assembly line.
The FrogPad is nothing new to GottaBeMobile. Steve S. put one to the test a few years back and gave us a great review detailing the kinematics and learning curve of the peripheral. For tablet users, it offers text-entry with your off-hand while you ink away with the other, a scenario that intrigues me. It's also highly mobile and invaluable to those who have no other choice but to type one-handed. If you're on the fence, be sure to check out their site and Steve's review.

This article may contain affiliate links. Click here for more details.