Saved From Rolling Back to XP from Vista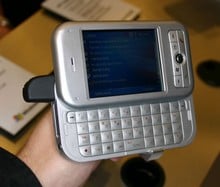 Whew! That was a close one. I've been dreading this moment ever since I installed Vista RC1 on my Toshiba M200 Tablet PC. The moment? Preparing for my first trip out of town. Why? I figured that I wouldn't be able to use my Sprint PPC 6700 as a modem while I'm on the road, simply because of driver issues. I had planned to roll back to XP when the time came and that time was approaching this weekend. I'm scheduled to head to the Virginia Theatre Association Conference (VTA) where I'll be screening auditions for college students trying to make their way to the Spring South East Theatre Conference (SETC) auditions. The VTA conference will be a two day affair and not having Internet access (or worse having to rely on dial-up) was just a horrible thought.
One of the reasons I purchased the PPC 6700 was for this type of travelling, but I didn't count on being caught in the Beta Black Hole, where some things work and some don't. Another possible hurdle? In XP I needed to disable ActiveSync in order for the hook up to work. I haven't found a way to disable the Sync Center in Vista yet and don't even know that one exists, to be honest. So that looked like a real obstacle. Like I said I was fully prepared to roll back to XP, but just didn't want to do it, so I thought I'd give trying to connect up in Vista a whirl.
I installed the driver from Sprint. Followed the hook up instructions and whadda ya know? All is working like a charm. In fact, the hook up and connection went much smoother in Vista than it ever did in XP. The real beauty of this is that I'll be able to really give EVDO a try this weekend where I'm heading. (I did take a quick trip to try it out after purchasing the PPC 6700, as we don't yet have EVDO here in the boonies.)
An interesting observation, and remember I'm just checking this out over Sprint's regular service here, but webpages in IE7 loaded much slower than in Firefox 2.0. Don't know why that is. On all my computers web pages do load much faster in Firefox 2.0 but this difference is even more noticeable. It looks like the difference between dial-up and broadband.
So, the good news, is that I can pack up the bags and rest assured that I'll be able to hook up this weekend, when I'm not judging auditions, and for the moment, there is no reason to roll back to XP.

As an Amazon Associate I earn from qualifying purchases.