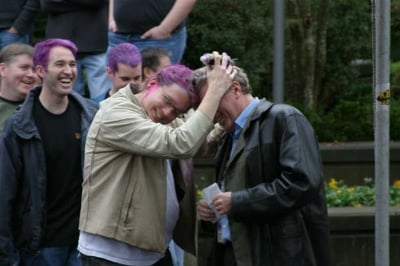 Chris Pratley, pictured here to the right celebrating the Gold release of OneNote 2007, has announced that he his moving on to another team within Microsoft. As the head of the Office Authoring Group at Microsoft, Chris has been an active participant in the Tablet PC online community, often times seeking direct input to making OneNote a better product, and much of what you see today in OneNote is a result of his interaction with the end users. Well done, Chris!
From Chris' blog:
Finally, on a personal note, after five years almost to the day working on OneNote including the time before it had a team, I have accepted a new position in the company doing some exciting new work. You'll hear more from me later about that, but for now you can be sure I'll continue to stay in touch, writing about OneNote as I hear more stories about people using it. Keep in mind that there are now many people on the OneNote team blogging. Here are some samples you should check out: Dan, David, Olya, Owen and others.
I want to close by saying that it has been an honour and a privilege to work with the OneNote team over the years. The team is a model of customer engagement at Microsoft (literally!) and I am so proud of the dedication to delighting customers that the team has had from the start.

As an Amazon Associate I earn from qualifying purchases.