Saying Goodbye to the HP TouchPad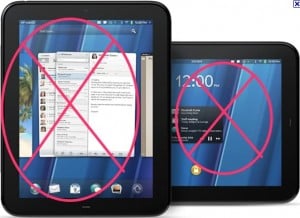 Like many I was stunned at the news from HP last week that they were dropping their interest in webOS hardware. Like some I think it is probably the beginning of the end of webOS, even with many (including HP) saying it might still have a life. I was more amused than stunned at the craziness surrounding the fire sale of TouchPads this weekend. It proves once again that price is extremely important when it comes to mobile devices, even those that don't have a future.
So, last evening I restored the HP TouchPad I bought on July 2 back to factory condition, boxed it up and returned it to Best Buy. The return went off without a hitch and soon I'll see the amount credited back to my credit card. So, long TouchPad.
I had thought of keeping it, if nothing more than as a collectors edition. After all I also picked up a Touchstone charger and an HP case for the device. (Actually they were given to me as birthday gifts.) But I also thought it might be interesting to see how the future pans out. At the moment there is a ton of activity and interest out there, but I imagine that will eventually fade away. Although I find it more than curious that apparently the devices are going for around $300 on eBay at the moment. It is hard enough to keep up with what's going on with new mobile devices in today's gadget rat race and trying to keep my own interest up in what will become a die hard community effort probably isn't in the cards. At least in my case. So, I came to my senses and realized that I should take advantage of HP and Best Buy extending the return window from 14 days to 60 days.
There was an interesting discussion at the Best Buy customer service counter as several of the employees gathered around to take the device out of the box, ostensibly to see if it was in working condition. (They later said that it didn't matter for the return to go through.) After chatting amiably for a bit, it turns out several of them were in their own little bidding war for who was going to purchase this 32GB unit.
Cruising around the store after the transaction was complete I noticed the end cap where the TouchPad used to be displayed was completely bare with only a couple of cables left for the display unit, along with the lock down device.
What a sad spectacle this has all turned out to be.
By the way, if anyone is looking for a Touchstone charger and the HP case for a TouchPad, drop me an email and make an offer. UPDATE: these accessories have been sold.

As an Amazon Associate I earn from qualifying purchases.