Scosche Lightning Cables for iPhone and iPad Charge in Car or Home
Accessory maker Scosche just announced a set of Scosche Lightning cables that will charge the iPhone 5, iPad mini and new 4th generation iPad with Retina Display. Most come at a slightly lower cost than what buyers can get from Apple.
Two of the three models of Lightning cables come in both a 5-watt and higher powered 12-watt chargers for both car and home. The third version connects to a computer's USB or a five or twelve-watt USB to AC adapter.
The strikeBASE in both five and twelve watts will expand to three feet and plugs into an AC outlet with a low profile brick so it won't block other plugs on an outlet or power strip. The AC plug prongs fold into the brick. Scosche will sell the strikeBASE for $29.99 for a five watt charger that works with the iPhone 5, fifth generation iPod Touch, and the seventh gen iPod Nano. The twelve watt model, the first of its kind according to Scosche, will charge the iPad mini and 4th generation iPad with Retina Display.
Apple bumped the wattage of their iPad chargers from ten to twelve watts during the last refresh of the iPad and introduction of the iPad mini. The extra power charges the devices faster. Scosche follows the lead with their new twelve watt chargers.
A new strikeDRIVE car charger with a Lightning connector on one end and a DC or cigarette lighter plug on the other comes in both wattages and charges all iOS devices, just like the strikeBASE cables. The five watt model costs $24.99 while the twelve watt model costs $29.99. It uses a coiled cable that won't tangle and expands up to three feet fitting the cluttered environment of many vehicles. The low profile DC plug fits most vehicles while not taking up space in the dash.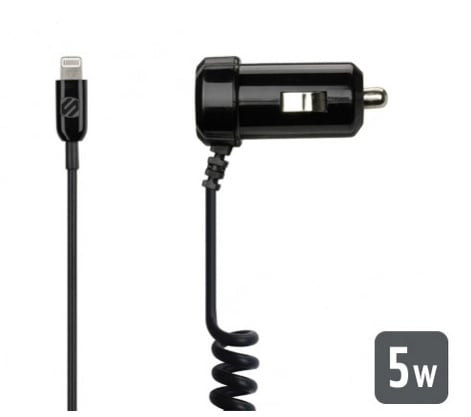 The strikeLINE Pro cable retracts and extends up to three feet and comes with a USB plug on one end and Lightning on the other. It costs $24.99.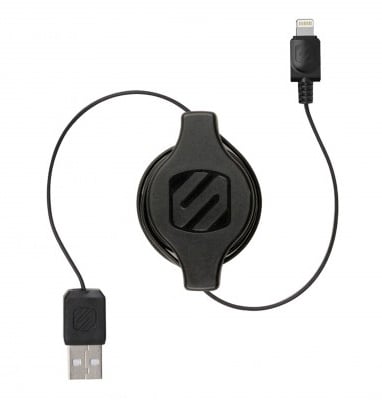 Buyers can get them at Scosche or via retailers like Amazon, AT&T, Wal-Mart, Staples, Fry's and some Apple brick and mortar stores.