Scosche Receiver Distracts Driver with Phone Control
Scosche, a company that has been making aftermarket automotive products for decades, has released the controlFREQ, a replacement stereo head unit for your car. The controlFREQ is a typical head unit, providing sources like Bluetooth audio, CD playback, and satellite radio, but offers a unique twist not seen with most head units: control via a smartphone app.
In a world where car stereos are moving to be as distraction free as possible, it is interesting to see a company make a device that moves redundant controls for audio to the smartphone. As stereos become more complicated, controlling all the functions on the head unit itself is annoying and cumbersome.
Utilizing the Bluetooth connection to the stereo, all of the controlFREQ's functionality can be controlled by the phone, including song selection, radio station, and more. Handing the phone to a passenger could allow them to become DJ for the journey, leaving the driver to the business of driving.
The controlFREQ is an interesting experiment in the vehicle integration segment, though. By taking advantage of a connection someone is already likely to make (Bluetooth), the phone can control all aspects of the system. Currently, if you are using a Bluetooth-enabled stereo in the car (whether it be factory or aftermarket), a person can choose which audio they want to play through the stereo. However, if the person controlling the music wants to switch from the smartphone it would require driver interaction.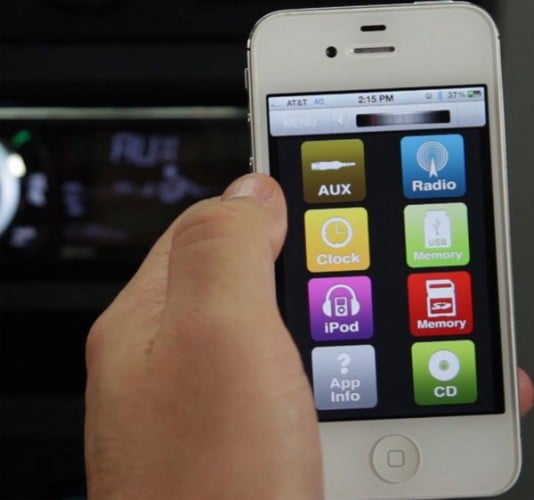 Unlike some systems that are coming, the controlFREQ does require a smartphone app to be installed, which closes the link between the stereo and the phone. Ideally, the system would integrate without the need for a proprietary app or come with an open API for other app developers to take advantage of.
OEMs are likely going to be looking at the future success or failure of controlFREQ to see if offering this type of complete control makes sense to consumers. But with RealVNC, Siri and S Voice Drive solutions all in place or coming soon, you should expect to see even more assimilation like this in the future.

As an Amazon Associate I earn from qualifying purchases.