SCOTTeVEST Hoodie Cotton Review: 1 Less Bag
The SCOTTeVEST Hoodie Cotton is an innovative, comfortable sweatshirt that makes life a little easier. At first glance, it looks a lot like most hoodies, but it has 21  pockets to manage all of your stuff and a couple of convenient features that make it more functional than a typical sweatshirt. The SCOTTeVEST Hoodie Cotton is available in black, cobalt blue, ash grey, maroon and navy blue for $95 from scottevest.com and Amazon.com for $95.
I've bought several SCOTTeVEST garments over the past decade, but this one is my favorite so far.  The company sent over a SCOTTeVEST Hoodie Cotton review sample at the beginning of summer and I've worn it constantly at home in San Francisco and on trips to Washington, Alaska, Oregon and Japan. It allowed me to go everywhere with one less bag than I would otherwise need and get more use out of more of my gadgets since I'm able to comfortably carry more of them with me.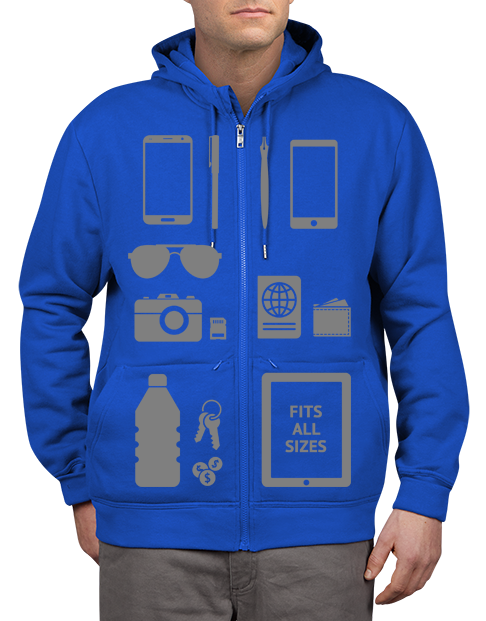 The above X-ray view of the hoodie shows where most of the pockets are located. Most of the pockets are located on the interior lining, including two large pockets that are each big enough to fit a full-sized iPad. I keep my 10.5″ iPad Pro or 12″ MacBook in one of the large pockets. This is especially useful when getting on an airplane because it means I can just stow my backpack in the overhead bin, sit down and buckle up without having to unpack anything from my backpack. While 21 pockets might sound excessive, the reason I like having so many pockets is so that I can separate all of my stuff and access it quickly.
The sweatshirt is very soft and comfortable to wear when relaxing indoors or napping. While I enjoy SCOTTeVEST jackets, they're not nearly as comfortable as this one. SCOTTeVEST has sold hoodies before, but this is the first one that has all of the interior pockets that are found on its jackets and fleeces.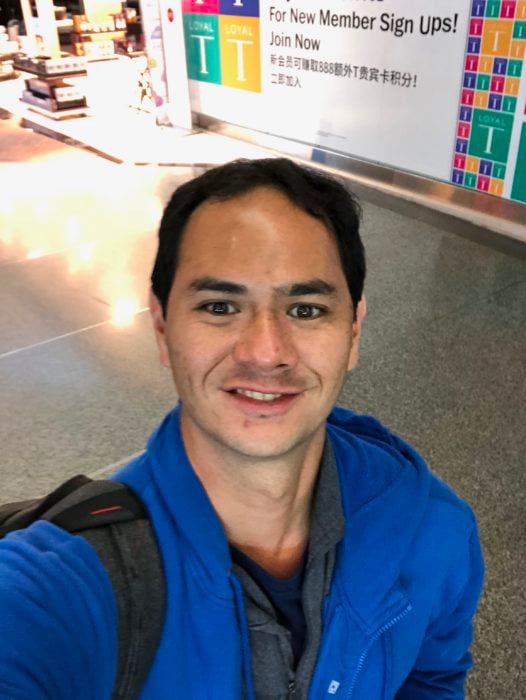 I shot the above selfie at San Francisco International Airport en route to Tokyo. One of the reasons I'm smiling is because I breezed through security. That's because I put smartphones, wallet, headphones, passport, camera accessories, headphones and other travel essentials neatly in the hoodie's pockets before heading to the airport. That means that at the I simply unbuckle my belt and watch, put them in the sweatshirt and place it in a bin at the security, rather than unpacking pants pockets like most travelers do.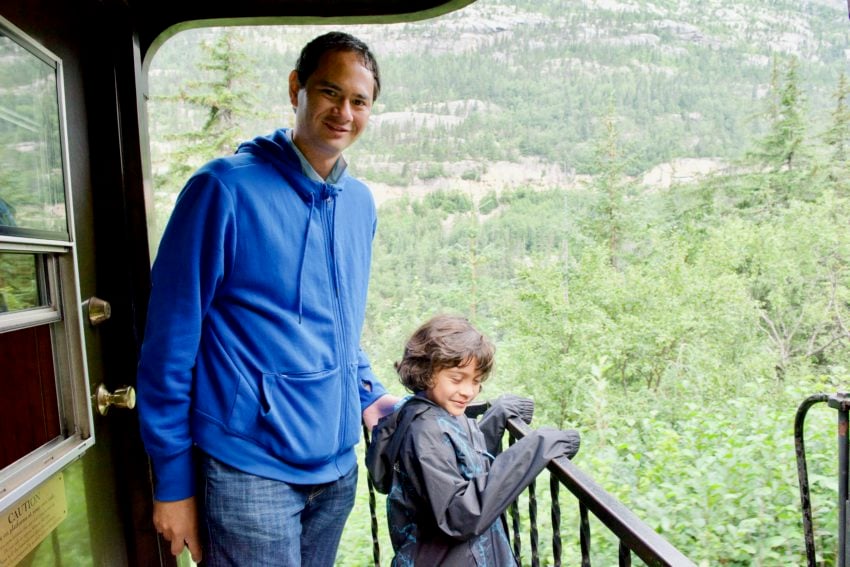 I wore the SCOTTeVEST Hoodie Cotton on a vintage train ride up to the  White Pass Summit in Alaska. My family and I had to rush from a cruise ship to catch the train in the early morning and I forgot to bring my jacket and gloves.  My son insisted on standing outside the entire ride, which I was thought would be too cold.  Thankfully the hoodie kept me just warm enough thanks to the hood and the thumbholes.  I went bag-less on this outing, with my Sony RX100 M5 camera, iPhone 7 Plus, iPhone 7, mophie battery charger, extra camera batteries, Airpods headset, sunglasses and other accessories were all packed in the hoodie's pockets. The zippered pockets that are just above the hand-warmer pockets on the front of the sweatshirt are especially useful for small gadgets and accessories because they are oriented vertically, which means items can't fall out of them easily. Within these zippered pockets are mini pockets with velcro for securing small items like SD cards.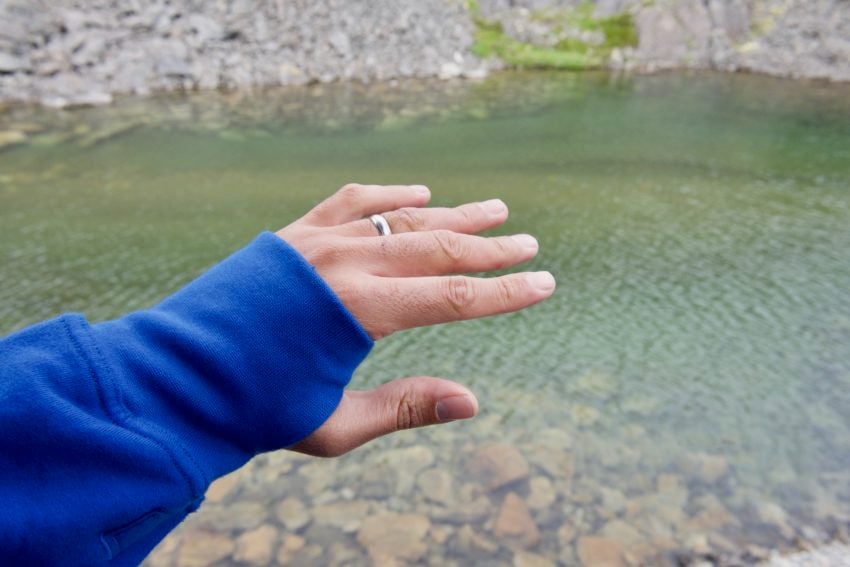 The SCOTTeVEST Hoodie Cotton's arms are a little longer than other sweatshirts' sleeves.  The thumbholes are towards the end of each sleeve, which can be used to lock the sleeves in place and cover most of my hands.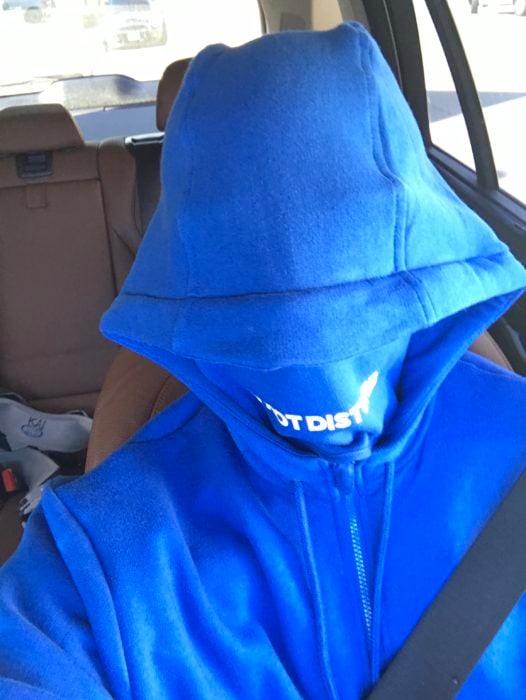 The sweatshirt has a built-in eye mask that flips down to block out light. The eye mask hangs from the top interior of the hood and can be tucked in to block out light from the sides and bottom.  It isn't completely opaque, but it blocks off enough light to make it easier to map on planes, especially when someone in the same row keeps a reading light on or refuses to close the window. I also used the eye mask to take cat naps at rest stops during a couple of road trips this summer.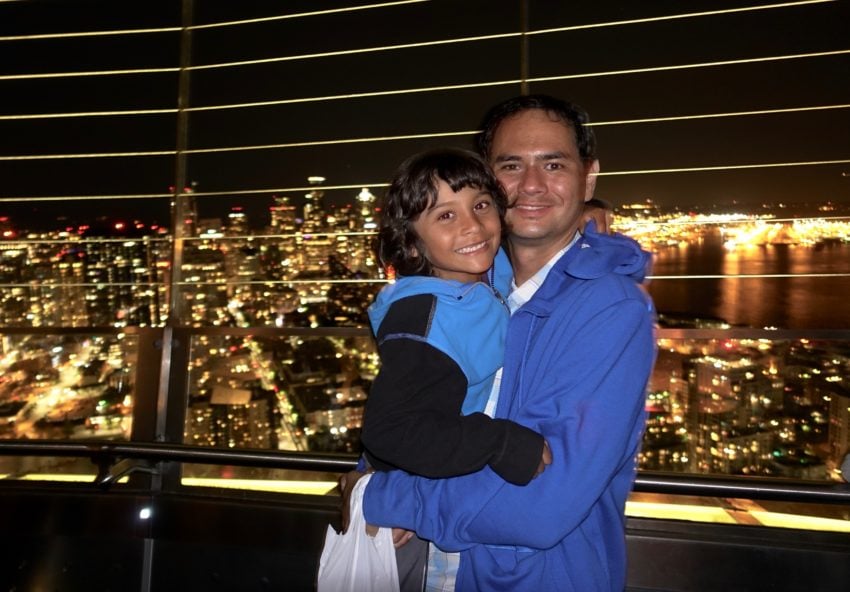 At $95, the SCOTTeVEST Hoodie Cotton is an expensive sweatshirt, but I think there's enough value in the product to justify it. It's about the same price as other premium sweatshirts from manufacturers like American Giant, which don't have any utility beyond keeping you warm.  It's cheaper than the BauBax hoodie, which has similar pocket features, but that hoodie doesn't have the same overall quality as the SCOTTeVEST hoodie and it's difficult to find in stock.
As I mentioned earlier, it allowed me to carry one less bag with me than if I had a normal sweatshirt or jacket. That means zero bags on a normal day at home or just a single backpack as a carry-on when traveling.  In one case, the SCOTTeVEST Hoodie Cotton already paid for itself. As I was checking in at the United Airlines counter in Tokyo, an agent told me that my bag was six pounds overweight. I told her to just charge me for the extra weight, but she said that I probably wouldn't want to do that because the fee would be 20,000 Yen, which is about $180. I transferred a small game system, mini tripod and a few other items into the hoodie's large pockets and cut the weight of my checked bag down enough to avoid the fees.
As with all products there are a couple of drawbacks.  Unpacking the SCOTTeVEST Hoodie Cotton can be a chore when it's time to clean it or leave it at home during warm spells.  While it's nice to have two giant pockets that could accommodate iPads, it would be nice if one or both of them had some built-in pouches or organizers. At times, pockets filled with too many items can create bulges.