SCOTTEVEST Fleece 7.0 Review
The SCOTTEVEST Fleece 7.0 is the smartest garment we've ever seen. The fleece features a pocket designed to carry an iPad and a specialized design that makes it easy to use a smartphone while it's still in a pocket.
I've used and reviewed SCOTTEVEST clothing for the past four years to avoid carrying bags, organize my gear and to conceal expensive gadgets while traveling. During that time, SCOTTEVEST expanded its product line significantly, but it stuck with the same pocket layout for all of its jackets, fleeces and vests. The Fleece 7.0 marks the first major pocket redesign since I started wearing SCOTTEVEST gear and it's one of the main reasons I've worn the thing nearly every day since the company sent over an early review unit.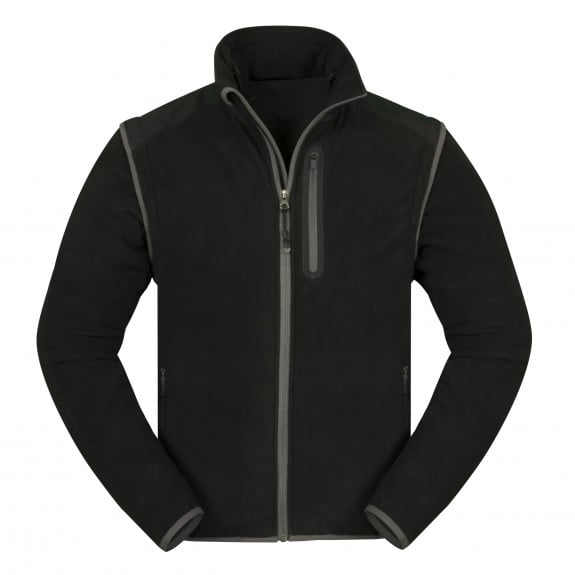 The Fleece 7.0 is more refined than its predecessor and uses higher-grade components. The new fleece looks less geeky and more mainstream. If fact, my fashionable wife complimented the fleece when she first saw me wearing it and was very surprised when I told her it was the latest from SCOTTEVEST. The new fleece is sleeker, forgoing the reflective piping, right-chest pocket and upper-arm pocket found on the Fleece 5.0.
The Fleece 7.0's pockets are of course the reason to consider the jacket in the first place. The big star here is the smartphone pocket on the left side of the jacket. The phone actually slides into a pocket within a pocket to protect it from other objects and to hold it securely against a see-through plastic panel.  Flip open the jacket and the phone's display viewable and usable. The iPhone 5 fits perfectly in this pocket and was my new phone's sole protector until I was able to buy a case for it a few days after picking it up. I really like this feature as it allows me to use my iPhone 5 in public without flaunting it, which can attract thieves.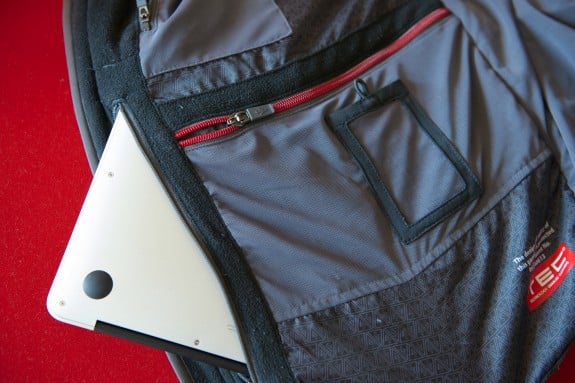 The right side of the interior features a PadPocket, which is designed to accomodate an iPad. The iPad slides into the pocket horizontally and then drops into a vertical position, which keeps it from sliding out should you forget to zip it up. Though it's a tighter fit, the PadPocket can also fit an 11″ MacBook Air, which is my weapon of choice when I'm working on the go and don't want to carry a bag. The Fleece 7.0's PadPocket isn't as big as the ones found on previous SCOTTEVEST jackets, which could accomodate 13″ and 15″ notebooks. That's okay in my book as carrying an iPad or 11″ computer is much more comfortable and reasonable.
The red zipper above the PadPocket leads to a travel documents pocket. A drivers license or credit card can be stored in the ID pocket on top of the travel documents pocket.
I wore the SCOTTEVEST Fleece 7.0 to wait in line for the iPhone 5 and it was warm enough for the cool San Francisco morning. The strap in the photo is my Black Rapid RS7, which makes lugging around my Nikon D800 much more bearable.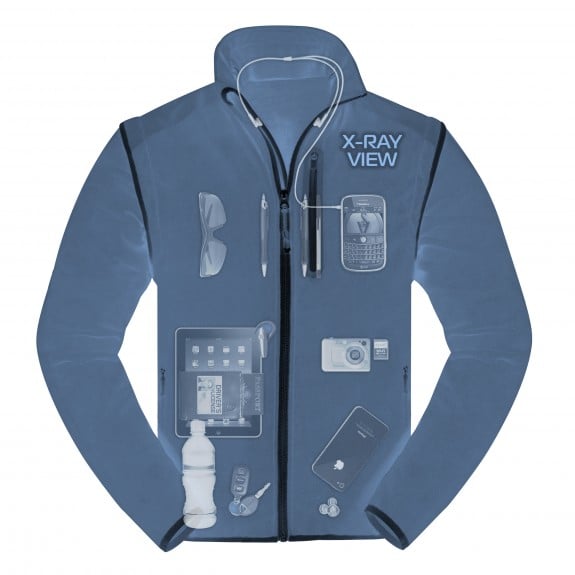 The Fleece 7.0 has a cord management system for headphones, which makes it really convenient to use my iPhone 5's earbuds for placing calls and using Siri, which comes in handy when the jacket is zipped up. The fleece has a dedicated pocket for a compact camera and its accessories, including a sub-pocket for SD cards.  Above the camera pocket is a second smartphone pocket. There are three pen pockets, one of which is wide enough for a thick stylus. There's a dedicated mesh pocket for glasses on top of another interior pocket, which houses a microfiber cleaning cloth. The exterior pocket on the right side comes with a loop to keep a water bottle in place and a key ring tether. The fleece's sleeves zip off and slide into a pocket that runs across the back of the jacket.
If that sounds like a lot of pockets, that's because there are more pockets than most people will use simultaneously. But options are good and I really like that the Fleece 7.0 keeps gadgets organized and separate from each other. This avoids scratching gadgets against each other and damaging screens. It took me a while to remember where everything is stored and I do have to hunt around for objects from time to time.
I highly recommend the Fleece 7.0 to anyone that wants to get more organized on the go or is tired of lugging around an extra bag just for their gadgets. If you like the Fleece 5.0 or any other SCOTTEVEST jacket, you're going to love the Fleece 7.0. It's worth upgrading to if you're a happy SeV Fleece owner.