SCOTTEVEST Hidden Cargo Pants Review
The SCOTTEVEST Hidden Cargo pants may just be the perfect pants for geeks. They look pretty similar to khakis sold by mainstream brands, but have 10 pockets and compartments, which means you can pack several mobile devices without having to endure the indignity of wearing a man purse.
I've worn SCOTTEVEST gear for the past five years or so, but most of the jackets, vests and cargo pants have a decidedly outdoorsy appearance. There's nothing wrong with that look, but they can look out-of-place in professional and semi-formal social situations. A quick path to a scolding from my wife would be to wear my SCOTTEVEST ultimate cargo pants/shorts to a nice dinner out.
In the above video I'm wearing the SCOTTEVEST Hidden Cargo Pants ($60) and the Front Snap Shirt ($80).  The $60 price tag is more than fair.
Enter the Hidden Cargo Pants. Scott Jordan, the founder of SCOTTEVEST, sent over a few of the company's newer items for me to try out while my wife was on a business trip. I wore the Hidden Cargo pants when I picked her up from the airport and she complemented my new khakis. She didn't believe me when I told her they were by SCOTTEVEST until I pulled out a bunch of items from one pocket. If these pants can fool my fashion-conscious wife, they can fool anyone.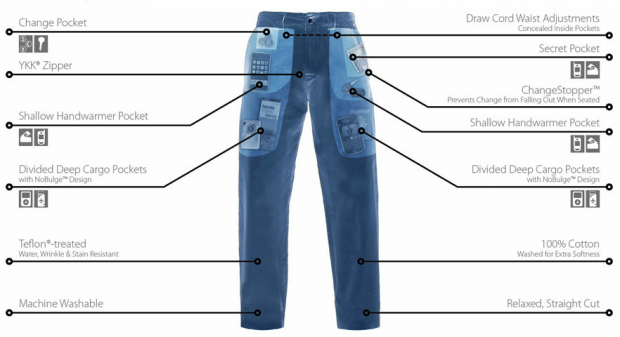 The secret to the Hidden Cargo Pants is layered front pockets. The pocket closest to your leg is about twice as deep as pockets on most of my pants. A second pocket is hidden above the first pocket and is held closed by magnets. The second pocket layer is much deeper, extending to about six inches above my knee.  The second layer has two compartments at the bottom, which means gear can be distributed to avoid bulges. The left-front pocket has an additional hidden zippered pocket that leads towards the middle of the garment.
I've held off on buying some of the mainstream-looking SCOTTEVEST garments because I didn't think they'd offer significantly more cargo capacity than my everyday jeans and khakis. I was pleasantly surprised at home many phones and gadgets I could stuff in the Hidden Cargo Pants.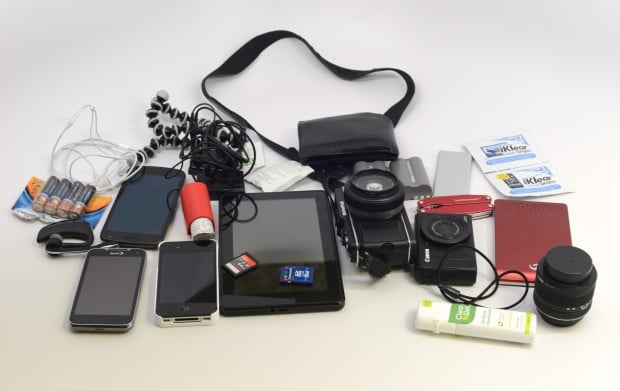 Here's a photo of all the gear I stuffed in the shirt and pants. I don't carry this exact set of gadgets around, but I often carry a pair of phones, a couple of cameras and a bunch of accessories. When I fly I often cram a bunch of stuff into SCOTTEVEST clothes to avoid checking bags filled with expensive gadgets and camera equipment.
iPhone 4S
Samsung Galaxy Nexus
LG Viper
Olympus PEN EP-3

14-42mm zoom lens
20mm prime lens (attached)

Canon Powershot S100
Amazon Kindle Fire
Seagate FreeAgent Go Portable drive
iPod Nano
Joby Gorilla Pod
Leatherman Juice C2 multi-tool
hand sanitizer
medication
leather wallet
Plantronics Voyager headset
2x headphones w/microphones
lens cleaner
laptop screen cleaner
2x batteries for Nikon D700
2x SD memory cards
4x AAA batteries
The pants are designed to stay clean and wrinkle free, which is great for travelers or guys that don't doing laundry or ironing. I've spilled small amounts of my son's milk and water on them and the liquid rolls right off.
As with everything in gadgetland, there are some things I don't like about the Hidden Cargo Pants. I've accidentally pocket dialed a couple of times with these pants when I forgot to lock my iPhone before slipping it in one of the pockets. The pocket lining is pretty thin, which means skin can activate touchscreens. Another problem I've run into is not being able to find my iPhone when it rings since the pockets are layered. Sure, I can feel it ringing in my front right pocket, but there's a lot of ground to cover. I've trained myself to only place my phone in the shallow front pocket.
The SCOTTEVEST Hidden Cargo Pants are a great buy for those that carry multiple gadgets. Gadgets as large as a 7″ Kindle Fire will slip right into the pockets with plenty of room to spare.

As an Amazon Associate I earn from qualifying purchases.