SCOTTEVEST Q-Zip Review: A Great Polo with Room for Your Daily Gadgets
The SCOTTEVEST Q-Zip is a long-sleeved performance polo that has enough room to pack a few gadgets and accessories. Its breathable construction makes it ideal for travel.
I've purchased and reviewed several SCOTTEVEST (SeV) jackets, pants and other garments over the years. SeV clothing design makes it easier to carry and use gadgets while on the go. Many SeV garments, inlcuding the Q-Zip, have features that make them well-suited for travelers.
The company was kind enough to provide the GottaBeMobile team with Fleece 7.0 vests, Q-Zip polo shirts and a Sport Coat for our trip to Las Vegas to cover CES 2013. The SeV Fleece 7.0 and Sport Coat can hold a ton of the gadgets we used on the show floor, but stuffing your pockets with a dozen or more gadgets isn't something a lot of people do on a regular basis. On the other hand, the Q-Zip has just enough room to accomodate the gadgets most people carry every day or while on vacation.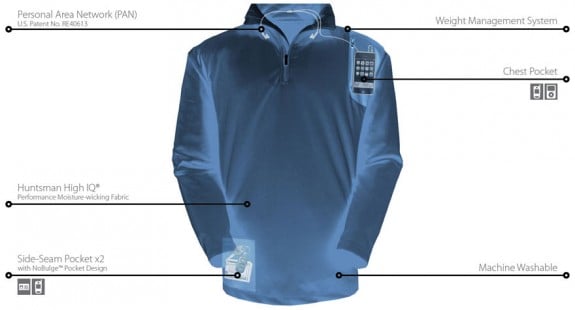 The shirt has three pockets, including one near the left shoulder. This pocket can accomodate a phone or an iPod, though it's not ideal if you need to access the touchscreen frequently. There's a hole in the pocket to pass headphone wires through. There are loops near the collar to stow earbuds when not in use.
There are two side-seam pockets on the right of the shirt. There's a lot more room for stowing gadgets and essentials than the semi-hidden zipper leads you to believe. I had no problem stowing a pair of smartphones and a camera in the two pockets.
So why would you need so many shirt pockets? For one, I don't keep my wallet in my back pocket whenever possible both for health reasons and to reduce the chance of having my wallet stolen. Stowing some of my gear in the Q-Zip frees up my front pants pocket for my wallet. It's also easier to access items stored in the shirt when I'm sitting, which means I didn't have to twist and turn in my seat to pay for cab fare or answer a call while in cabs and shuttles in Las Vegas.
Like other SeV shirts I've worn on vacation, the Q-Zip is great when wearing sweatpants and swimsuits, which don't have as many pockets as pants I normally wear. The Q-Zip is pretty thin, which was fine for walking the show floors in Las Vegas, but it won't keep you warm outdoors. Its material is thinner than the photos and video make it appear. The Q-Zip takes up less room than a cotton t-shirt in luggage and at $45, the Q-Zip is a good value. Most of the GottaBeMobile team members preferred the Q-Zip to the $65 Nike Dri-fit polo shirts with our logo. The Q-Zip is available directly from SCOTTEVEST.com.
What's in my SeV Q-Zip in the above video:
Room key

Sony CyberShot RX 100

Lightning Cable

2x iPhone 5

Business cards