SCOTTEVEST Sport Coat Review
The SCOTTEVEST Sport Coat allows gadget lovers to discretely carry a bagful of gadgets, without having to choose between geek and chic. At just $200, it looks good enough to wear to business meetings, or on a stage, while giving quick access to your favorite mobile devices.
I first started wearing the SCOTTEVEST (SeV) Fleece 5.0 back in 2008. Back then, SeV garments were decidedly geeky, sporting features like reflective piping. The Fleece 5.0 fit right in at tech trade shows, such as the Consumer Electronics Show in Las Vegas. Over time I bought several other SeV garments to wear every day and while traveling. Since then SeV garments have grown to appear more and more mainstream, blending in with everyday clothing. This is a huge positive in my book since my wife is a bit of a fashionista and used to grumble a bit when I donned my older SeV jackets, such as the tropical vest I wore when traveling with a bunch of gadgets in India.
The SeV Sports Coat has 23 pockets, ranging from tiny little pockets to stow earbuds, to a pocket that's large enough to stow an iPad. There's plenty of room for a pair of smartphones, glasses, wallet, keys business cards, a compact camera and related accessories.
The SeV Sport Coat's exterior is similar in quality to a department store's house brands. It's nice enough for semi-formal events or business meetings, but nobody's going to mistake the SeV Sport Coat for one of my Armani coats. Some people won't find the coat's exterior to be refined enough for some occasions, but there are tradeoffs with every product out there.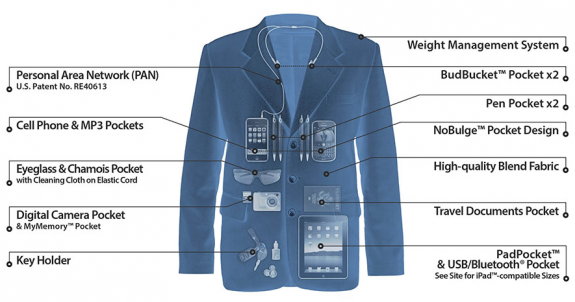 The folks at SCOTTEVEST were kind enough to outfit the GottaBeMobile team with Fleece 7.0 jackets and QZip polo shirts at CES 2013. Our team members really enjoyed both of these items while roaming the show floors. But I knew there'd invariably be at least one event in Las Vegas where a polo shirt and fleece wouldn't do. So SCOTTEVEST sent over a sports coat for me to try out.
I got a chance to present some of our Best of CES 2013 awards on stage to a Lenovo executive on one of the last nights of CES 2013. Prior to the event I found out that I'd have a chance to meet Jerry Rice, one of my sports heros.  I wore some nice wool Banana Republic slacks, a Thomas Pink shirt and the SeV Sport Coat for the event.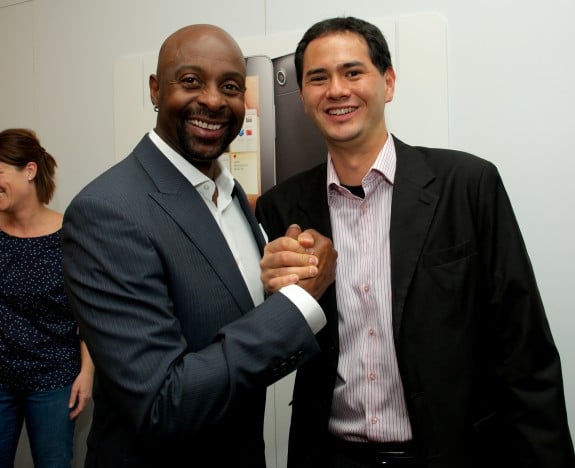 I didn't look half bad, especially considering I dressed myself rather than relying on my wife's fashion advice. I felt very comfortable in the outfit and blended in with the crowd. Little did anyone know that I was wearing many of my favorite devices.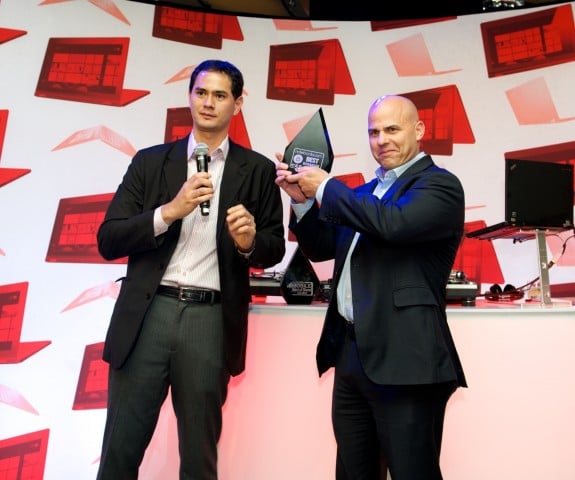 Wearing a bunch of gadgets in the SeV Sport Coat does add a few pounds, but it's a much more viable solution than lugging around a backpack to a semi-formal event or stuffing my pockets. I'm a camera enthusiast and always carry the best camera that I can reasonably carry at any given time. Sometimes that means I lug around a Nikon D800, but I went with my Sony Cybershot RX 100 point-and-shoot for this event. There's plenty of room for camera accessories and this coat has a built-in lens cleaning cloth.
What was in my SeV Sport Coat:
iPad mini

iPad Lightning SD Card adapter

Lightning to USB adapter

iPhone 5 on AT&T

iPHone 5 on Verizon

LG Nexus 4

Sony CybershotRX 100

Spare Camera battery

Business cards

Mophie Power Station

Altoids mints

Overstuffed Wallet

Moisturizer
The SeV Sport Coat is a very good value at $200, which is much cheaper than coats of similar quality without all the pockets. The one thing to be cautious of with the SeV sport coat is overstuffing the pockets. It's best to keep a single device in each pocket to avoid bulging.

As an Amazon Associate I earn from qualifying purchases.