SCOTTEVEST Travel Boxers: Is That a Phone in Your Pocket or Are You Just Happy to See Me?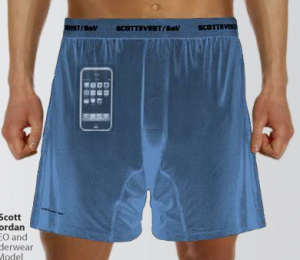 We're big fans of SCOTTEVEST clothing here at GBM. We've stuffed PCs,Tablet PCs, iPads, cameras, extra laptop batteries, guns, knives and phones into our SCOTTEVEST jackets and pants, but where's a geek to put his gadgets when he's too lazy to get dressed in the morning? Enter the SCOTTEVEST Travel Boxers. (GBM SCOTTEVEST coverage)
SCOTTEVEST CEO Scott Jordon shows us how this cleverly designed pair of boxer shorts can conceal an iPhone 4.
https://www.youtube.com/watch?v=C7ETYYaVvpg
Now, instead of sleeping next to your iPhone and accidentally knocking it onto the ground, you can have a safe place to keep it. Those who stall surf would probably love a pair of these. I laughed when I watched this video…thinking that I'd never need a pair of these. But then I thought about how hard it is to keep track of my phone when I work from home in my boxers.
I think I'll be ordering a pair, which cost $20 a piece at SCOTTEVEST.com. SCOTTEVEST is currently offering a discount of $5 if you buy three or more at a time, but who needs more than one pair of boxers?

As an Amazon Associate I earn from qualifying purchases.