Screen Image Ghosting Reported on iPad mini with Retina Display
Every release of every new product brings with it a countdown until the first issues or bugs are reported. You can almost set your clock by it. Well, it appears we have a first issue with the new iPad mini with Retina Display. The issue: screen image retention or ghosting.
Macbook Pro with Retina users may remember that there had been an issue with screen image retention on some of the 15 inch versions of that device.  The problem is also called burn in or ghosting. Essentially an image left on the screen for too long will "burn in" or leave a trace of itself on the screen. Not something you want in a new device focused on delivering an eye-popping display. Like with the iPad mini with Retina Display Apple used multiple suppliers for the screens.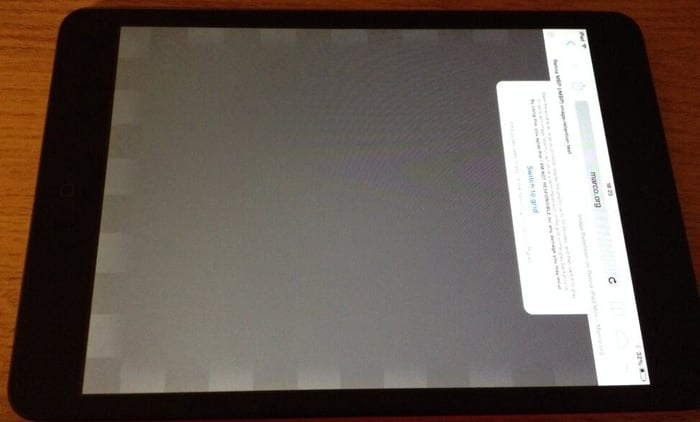 At the time of the Macbook Pro with Retina issue, iOS developer Marco Arment created a test that users could run to see if they had the issue. You can find the test here.  (Clicking on the title of the post will take you to the test.) Because it is on a webpage, you can run it on any device. Arment tried it on his iPad mini with Retina Display and discovered that he had the issue with that new device as well.
Being curious I also tried the test and noticed the burn in happening on the screen of my new iPad mini with Retina Display. Arment suggests running the first phase of the test for 10 minutes. What happens in that first phase is that you display a black and white checkerboard pattern on the screen of your device. Then you switch to a gray screen and see if you notice the checkerboard pattern still ghosting. I ran the test for 5 minutes and when I switched the screen to gray I noticed the checkerboard pattern. It has since faded.
Note that Arment issues a disclaimer saying that if you run the test and damage your screen he will take no responsibility. If any GBM users run the test you're on your own as well. GBM takes no responsibility.
Apple is reportedly using screens from Sharp, LG, and Samsung for the iPad mini with Retina Display. There's no way to know which panel from which maker when you order or make a purchase. Reports surfaced that image retention with the Sharp IGZO panels may have been the cause of production delays for the new smaller iPad.
I tried to take a picture of what I was seeing on my iPad mini with Retina Display but the ghosting was so faint that it wouldn't show up with a camera or a screen shot. The picture accompanying this post is from MacTrust and shows  a much more severe case than what I was seeing. I'm not sure if this is something users would notice or not in every day use of the device. Certainly if you did notice it I would have a discussion with Apple.

As an Amazon Associate I earn from qualifying purchases.