Screenshot Reveals Possible UI Overhaul of BlackBerry World App Store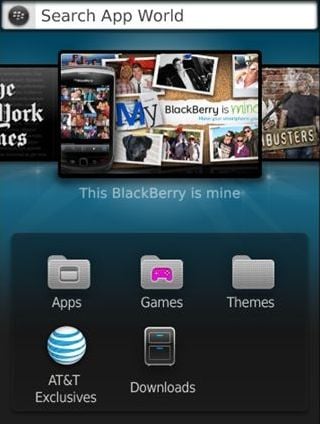 Research in Motion may have a big overhaul of its app store look and feel coming soon with the introduction of BlackBerry App World 3.0 according to the latest leaked screenshot. The screenshot, posted on bbnews, reveals a prominent search bar at the top, revised icons, and an interface that's more conducive to touchscreens, which will be a plus as RIM is set to introduce more touchscreen-enabled BlackBerry smartphones beyond the initial BlackBerry Storm and Torch franchises.
Just under the search bar is a carousel featuring new and prominent apps, and below that are large icons for popular categories, or types, of apps. The screenshot shows an AT&T logo, suggesting that like Google's Android Market, carriers will be able to have their own sub-store within App World where they can feature their own apps or curate their own mini storefront. Additionally, App World 3.0 should bring additional carriers into the process for carrier billing so users can charge their purchases to their cell phone bill every month, rather than have a credit card or PayPal account on file.
Reorganizing the look and feel of App World may be beneficial to Research in Motion as it tries to build its catalog of apps and woo developers to developing for the platform. Unlike Android and iOS, BlackBerry users still complain about a dearth of titles available for the BlackBerry platform, and of those available title, it is still hard for users to discover new apps. Making it easy for users to discover apps may entice new developers to creating apps for BlackBerry phones.
It's unclear if the look of BlackBerry App World 3.0 would trickle down to BlackBerry OS 6 and older devices, or if it will be reserved for the new BlackBerry 7 OS devices moving forward.
Via: IntoMobile

As an Amazon Associate I earn from qualifying purchases.