Scrivener for iPad, iPhone and Mac Review
With the ease of self-publishing and the NaNoWriMo movement (National Novel Writing Month), more and more people need a tool like Scrivener to write their novels. Students with long papers to write might also want to take a look at this long-form writing tool that works on Mac, iPhone and iPad.
Literature and Latte, the makers of Scrivener, recently released their popular long form research and writing tool for iPad and iPhone. So, it made sense to check out this complex and powerful cross-platform tool. Should you ditch a tool like Pages on Mac or Microsoft Word for those complex long-form documents, books or research papers?
Scrivener for the Desktop or Laptop
The macOS and Windows versions of Scrivener look and behave similarly. We'll show off the Mac version, which the developer provided for this review. However, if you're concerned about the differences, check out their support document which covers the topic. The developers promise that the differences will diminish over time.
The program centers around projects instead of documents. The user will create a new project and in that project they'll automatically find a section called the Binder with subsections that the program creates automatically.
Draft – includes the documents and folders of documents that you will create.
Research – holds information you import into the program to use in your creations.
Trash – holds documents and research that you throw away so they're still available if you need them back again.
The Draft folder will start empty. You create a new Text document with the COMMAND+N shortcut or from the Project – New Text menu. These documents look like most basic word processors. Scrivener lets you use a WYSIWYG editing environment or mark down. It also opens into a distraction-free writing environment.
The program assumes you will create a bunch of documents in a project. For example, a long research paper for a Ph.D. dissertation might include five chapters each with several sections. In Scrivener, you would create five folders and a new document for each section. This lets you work just on that section and then move the sections around later if needed. It's easier to drag and drop a draft document than it is to cut and paste a bunch of paragraphs in Word or Pages.
Scrivener includes some nice formatting options. You can create great styles and formatting options for the long document. When you're finished, you compile the document and set it up to format sections with titles and subtitles as you want. When you're done compiling and exporting, you end up with a single file. You can export files as a PDF document, RTF, Word, OpenOffice or simple Text. The program offers complex publishing settings to make it look exactly as you want.
Writing Long Documents in Scrivener
Scrivener includes a few features that make it great for writing a book, novel, screenplay, dissertation or other long project. Use the Corkboard or the Outliner to organize your work and plan.
The Corkboard uses the information you add to each Text document in the Drafts folder. Add things like a name, a summary, some tags or keywords, and the kind of document it is. Then click on the Corkboard button on the toolbar and show all of those documents as customizable cards. They look like 3×5 notecards, although you can change the size and color, add images or icons, and drag and drop to rearrange the cards.
Use the Outliner to start a project. Each entry in the outline becomes a document or folder in the Drafts folder in the Binder on the left.
Anyone who wants to write a novel or screenplay knows that keeping track of characters can become difficult, especially if you're writing a story with more than handful of them. Scrivener helps you create Character Sheets with a template that asks you to write information like their name, physical description, role in the story and more. Go back and update these Character Sheets as you work.
You can also create templates to reuse for sections of a project. I write sermons and Bible studies using the same template for each. I created a template and used the built-in tools that let you identify that document as a template. Then anytime I want to create a new document based on the template, I use the menu system or keyboard shortcuts. It will find the document in a special folder tagged as a template folder.
Organize Your Research
The Research folder in the Binder will hold documents, pictures, videos, audio files and web pages. A user can surf the web finding information for their project from their iPad or iPhone while out and about. Take photos while traveling to a city or country as part of your research. Store those photos or videos in the folder on the iPhone. Got an idea, but you can't type it out? Record it using the iPhone's voice recorder. Then put that in the Research folder, too.
The next time you're at your desktop or laptop computer, you can open the Research folder and start to merge your findings in your project. Do some more research and save it there. Scan documents or book/magazine pages into your Mac or PC and then import them there.
Scrivener on iPad or iPhone
Most of the functions available on the Mac or Windows versions also come on the iOS version. We don't get automatic syncing between the three platforms. Instead, the program relies on Dropbox or iTunes to move files from the mobile versions to the computer versions. You install Dropbox on the Mac or Windows computer and open files from a folder under Apps – Scrivener. That's limiting for people who don't like Dropbox or who don't like to trust their important book, screenplay or research paper to a third-party. In that case, you'll need to manually plug in the iOS device and move files on and off the device using iTunes.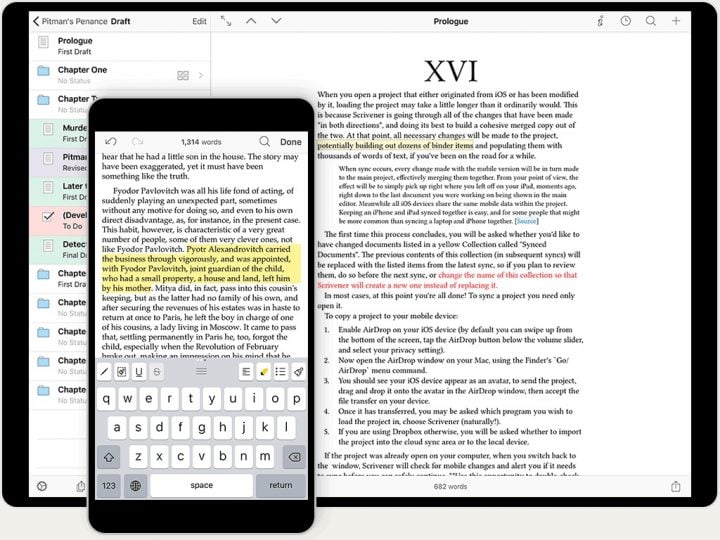 Scrivener works great on the iPad Pro. You can use it on the smaller iPhone screen, but I wouldn't want to write on it. You could do some research, take screen shots or photos with the camera and put them in the Research folder in your project. Then, open it up on the Mac or PC and work with that research or media from your phone synced through Dropbox or via iTunes.
Compile and Export Scrivener Projects
When you're finished with your masterpiece, it's time to put it all together into a file you can distribute, sell or send off to publishers or film makers. Scrivener organizes all of your documents into one single document using the Compile tool from the File menu. Each Text Document in the Draft folder becomes a section in the final project. Add page breaks before a chapter. Set the document's fonts for headings, subheadings, body text and titles. Give the whole project a consistent look and layout.
Scrivener Cost and Value
Scrivener works on macOS, iOS and Windows. However, it's not cheap. The Mac version costs $45 while the iOS version will set you back $20 in the iOS App Store. The program costs $40 for the Windows version. They offer discounts for people who need both Mac and Windows versions. Get both for $70 or, if you already own one version, then add the other for a discount.
Why should I fork over $40-$45 for the PC or Mac version and another $20 for the iOS version? First, the cost of a complex writing tool like Microsoft Word will cost more and doesn't include the great long-form writing tools. This review only scratched the surface of the features included in Scrivener.
Second, the powerful writing and publishing features help users create great documents. The Compile tool alone makes Scrivener worth the cost. The app on both iOS and the computer helps combine all of your documents, templates and research in one place. If you use the Corkboard and Outliner, it's also a great tool for planning your project.
Other features we've not even looked at make it a useful tool. Those include…
Collections – organize your work into collections based on searches you've done on all of your documents. This lets you put together documents about a subject or keyword into a saved collection.
Character Name Generator – create interesting names for your fictional stories.
Automatic Backup – zips your project and saves it to Dropbox.
Snapshots – create snapshots before you begin editing a document so that you can get back to the start if you mess it up.
Live Word Count – great for projects that have to fit a certain word count.
Templates – a group of templates for scripts, novels, research papers and even recipes plus a live community of templates you can download for free or a fee.
Scrivenings Mode – get a quick look at what your project will look like with all the documents put into a page-by-page stream that you can scroll through.
Page View – see what your document will look like when printed or compiled.
Scrivener's not for everyone. If you're not creating a long document, book or project, then don't bother. Also, if you've already got a great writing tool that you love and enjoy using, then don't jump to Scrivener. Scrivener makes it easy to import Word or text files that you can then organize. I plan to import a bunch of old sermons I've written in Word and create a book out of them. However, people who don't want or need to do this should find a simpler tool. Scrivener's too much software for people with simple needs.

This article may contain affiliate links. Click here for more details.