Seagate Wireless Plus Adds 1 TB Storage to Your Smartphone, Tablet
At the Consumer Electronics Show, Seagate announced a portable wireless hard drive that would serve as a companion to your smartphone, tablet, or ultrabook to give you up to an additional terabyte of storage. This far exceeds the maximum smartphone storage right now, which is 64 GB of internal storage on devices like the Galaxy S III, the iPhone 5, or the Galaxy Note II and even 64 GB of expandable storage via a micro SDXC card.
Seagate Technology plc (NASDAQ: STX) today announced the next evolution of the company's wireless storage category, Seagate® Wireless Plus mobile device storage at the 2013 Consumer Electronics Show. Designed to wirelessly stream content for up to eight smartphones or tablets with enough space for up to 500 high-definition movies, this new wireless hard drive, will extend the limits of today's mobile lifestyle. The new Seagate Wireless Plus now also includes a 10-hour battery life to match that of most tablets and smart phones. With the integrated 1TB drive you'll have all you need to be entertained anywhere including long road trips or flights – without an Internet connection.
The hard drive will come with support for WiFi and a an integrated battery that will provide you with up to 10 hours of use time. Essentially, the Seagate Wireless Plus hard drive will serve as a media streamer so you can stream the content stored on the drive to your devices. As iOS devices–like the iPhone, iPod Touch, and iPad–cannot accept expandable storage via a micro SD or a regular SD card, the Wireless Plus hard drive will provide power iOS users with extra storage capabilities where they can store documents, photos, or files.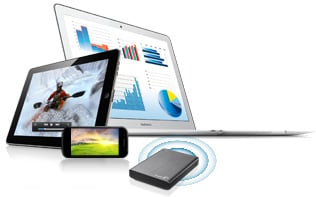 The Wireless Plus essentially succeeds the Seagate GoFlex Satellite Mobile hard drive, which had capped out at 500 GB of storage. Additionally, one of the limitations of the GoFlex Satellite Mobile drive is that users cannot connect to the Internet while connected to the Satellite drive. This is because the iOS device would be connected to the Satellite's WiFi via an ad-hoc direct connection so you cannot connect to your home WiFi network to get Internet.
With the Wireless Plus, however, it seems that Seagate has rectified this Internet connectivity limitation of the previous generation wireless hard drive.
The Wireless Plus retails for $200 for 1 TB of storage capacity via Amazon and Best Buy or direct through Seagate.

As an Amazon Associate I earn from qualifying purchases.