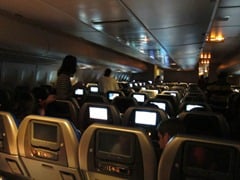 I'm writing this blog post from seat 68H on a Cathay Pacific flight from Hong Kong to Mumbai for my brother-in-law's wedding. While I'm in India I'll be blogging about my own mobile tech experiences and observations.
The first pleasant surprise of my trip is Cathay Pacific's seats. The seat cushions recline into the shell of the seat, without the shell moving backwards. This means you don't have to worry about the guy in front of you crushing your laptop's display.
Safe laptop displays are great and all, but there a couple of things more important on the back of the seats. Each seat is equipped with an eight-inch display and remote control. This gives each passenger access to 100 movies, 800+ songs and a few hundred TV programs. You can also use the system to place a phone call, do some shopping or play video games.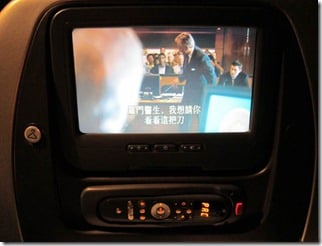 This system looks very familiar because it's pretty much the exact hardware you'll find on Virgin America flights. Unlike Virgin America's system, the Cathay Pacific displays are not touch-enabled.
Somewhere in the cargo hold are servers that run the whole show. The system crashed when we were prepping for takeoff and we had to watch a Red Hat boot sequence, A young child sitting in front of me repeatedly said 'penguin' until the process was complete.
The best surprise of the flight was when I flipped down the seat-back tray and discovered a universal AC power outlet. I wish every airliner would install easily-accessible outlets like the ones on  Cathay Pacific's jets.