Second Wave of Fixes for Windows 10 Problems Arrives
Microsoft, makers of the Surface line of PCs and more, has another round of fixes for users who have already taken advantage of its free Windows 10 upgrade offer. Late yesterday the company began letting users download a slew of software fixes related to the Windows 10 problems have users reported so far.
Microsoft quietly began letting users download more fixes for Windows 10 on Tuesday, roughly two weeks after it unleashed its first released the free Windows 10 upgrade. The fixes are the second wave of updates to come to users who have Windows 10 installed on their devices.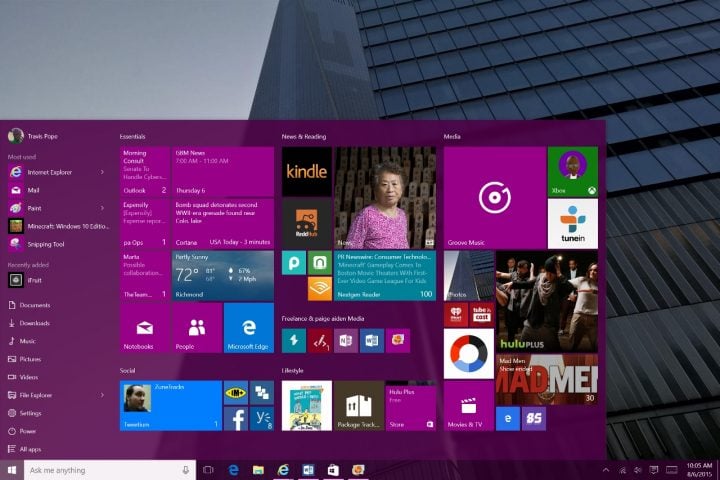 Cumulative Update for Windows 10 for x64-based systems and Security Update for Internet Explorer Flash Player for Windows 10 for x64 based systems are the two main updates. A summary of the changes on Microsoft's website only elaborates on the Cumulative update slightly, saying that the update "includes improvements to improve the functionality of Windows 10." The update also contains fixes for security vulnerabilities in both Internet Explorer and Microsoft Edge. Microsoft Edge is the new web browser meant to eventually replace Internet Explorer.
Read: Windows 10 Review – A Love Affair
Anyone running the operating system should manually get the updates when their PC is connected to the internet next. Windows 10 Home and Windows 10 Pro download updates automatically by default.
Updates in Windows 10 Home can't be manually skipped, but can be manually installed. To check for the latest updates users should go to the Settings app. Open the Action Center by clicking on the message bubble in the right corner of the Taskbar. Click on Settings. Choose Update & Security from the menu. Windows Update is the first option at the top of the menu.
Again, Windows 10 needs a decent internet connection before it can begin downloading updates. Installing the update won't restore a Windows 10 device automatically. That can be done manually if it's necessary, or the machine will restart itself at night when it's connected to a power outlet and no one is using it.
Users will noticed a Definition Update for Windows Defender in their list of needed updates too. That's normal, Windows 10 has Windows Defender built-in. Defender is a security suite, just like McAffee or Norton. Microsoft offers it to Windows users free of charge.
Since launching on July 29th, Windows 10 problems have become a hot-bed issue. Generally speaking, Microsoft has said that it will never stop iterating on Windows 10. That promise — and these frequent fixes – are a key component of Microsoft's strategy going forward. Windows 10 will act as a service, managing itself quietly with fixes and improving with new features on a regular basis instead of once every three years.
In the past Microsoft might have released separate fixes for issues then waited months for a fix to address every issue users reported. Presumably, Microsoft is working through the reports of issues they've received based on how severe they are.
Microsoft hasn't yet said how it plans to address Windows 10 upgrade problems.
Read: 7 Windows 10 Upgrade Problems & How to Fix Them
Windows 10 turns the Start Screen back into the Start Menu for users who don't have a device with touch and apps downloaded from the Windows Store can run alongside desktop apps, like iTunes. The Windows 10 upgrade is free to all who have Starter, Home, Professional or Ultimate versions of Windows 7 and on their PCs. Devices with Windows 8.1 Home or Professional installed also get the update free.

This article may contain affiliate links. Click here for more details.