SEIDIO ACTIVE with Metal Kickstand Review
One Samsung Galaxy S4 case we really like from SEIDIO protects the phone from minor drops, holds the phone up (thanks to the metal kickstand) and hangs off the user's belt thanks to the form-fitting holster. We tested the SEIDIO ACTIVE with Metal Kickstand and don't hesitate to recommend it. The buyer gets a lot of usefulness and protection in this case and the optional holster. This case is just as useful as the Galaxy Note 2 SEIDIO we shared at previously.
SEIDIO sells the ACTIVE with Metal Kickstand alone for $34.95 and the holster for $29.95 for the holster add-on.
Let's start with the case. The buyer gets a black shock absorbing case thanks to the multiple layers. An inner layer of shock absorbing silicone hugs the Samsung Galaxy S4 perfectly. Add some strength by putting on the skeleton case over the silicone for a rugged second layer. In addition to holding the softer silicone in place, this outer layer adds a metal kickstand on back. The phone's owner can prop their Galaxy S4 at a nice angle for viewing movies or even typing with a Bluetooth keyboard.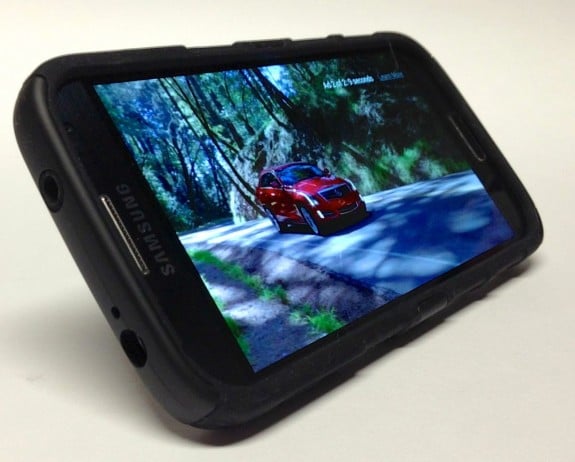 When it's time to go, slap the phone into the strong holster hanging off a belt or pocket. The clip holds the case in place and rotates so the user can carry their phone at almost any preferred angle. The rotating mechanism holds the angle until the user turns it. There's also a smooth layer of felt on the inside of the holster to protect the screen and a clip at the top of the holster to hold the phone in place while quickly releasing it.
The combo of the two comes with a SEDIO Ultimate Screen Guard, which installs without a lot of trouble. We found a couple of bubbles under the plastic guard, but they seem to dissipate after time. Consider this a free add-on worth only what users pay. We're really looking forward to the SEIDIO Vitreo tempered glass screen guard coming soon. The iPhone 5 and Samsung Galaxy S3 versions work well.
We get all the normal cutouts to access buttons and ports. The system works great and protects sufficiently. It robs us of the svelt design of the phone since it adds some thickness, but some people need protection more than good looks. For that group, we recommend the SEIDIO ACTIVE with Metal Kickstand and the optional holster, despite the high cost and one other small annoyance. The soft silicone lining attracts lint easily. We had to keep picking it off after a day's use making the case look a little grimy.

This article may contain affiliate links. Click here for more details.