Sell Your iPad 2 Before the iPad 3 Release
If you plan to upgrade to the iPad 3 in March, you better start thinking about selling your iPad or iPad 2 today, before prices drop.
We talked with Anthony Scarsella, Chief Gadget Officer of Gazelle.com to find out when to sell your iPad 2 for the highest price, and to find out if we'll see a jump in prices paid like we did last year.
If you want to sell your iPad 2 for the highest price, or even your original iPad, now is the best time to sell according to Scarsella who shared with GottaBeMobile that we won't see a "price spike" this year.
(Read: What to Expect from the iPad 3)
iPad 3 buyers are already locking in prices for their iPad 2 on Gazelle. The gadget buying company saw iPad trades ins jump 500% from February 8th to the 9th, when news leaked that the iPad 3 would launch in early March. The iPad made up 8% of total trade ins on Gazelle on the 9th. In the following few days iPad trade in volume was up 300% — even without an iPad 3 release date or announcement.
Sell, Sell, Sell Your iPad Today
I almost waited for the announcement date to check the price of my iPad 2 on Gazelle because I was able to score an incredibly high price last year, hours after Apple announced the iPad 2, but Scarsella explains that we won't see a price jump again. Last year Gazelle had, "No idea how the iPad would react in the secondary market," which combined with a desire to get added press and amass a stock of iPads pushed Gazelles price up.
There won't be a bump this year, but that doesn't mean you can't get a good price for your iPad 2.
Before you sell your iPad, make sure you take time to clean it up. When Gazelle gets your iPad in, they look it over to make sure that it lives up to the description you gave. According to Scarsella, many iPads are in "Good" or "Flawless" condition because they aren't carried about and dropped as much as iPhones are.
Taking an extra 20 minutes to clean your screen, buff off any small scratches and look over your device could earn you an extra $40.
In the past 24 hours, the price for an iPad 2 32GB WiFi model has dropped $10, as have prices for most other models in flawless condition. As we get closer to the iPad 3 release date, prices will drop at Gazelle and on auction sites like eBay.
30 Day Price Lock Means No Downtime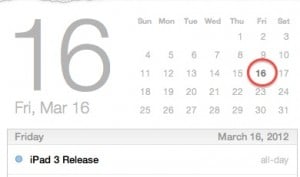 If you want to sell your iPad or iPad 2 to Gazelle to cut your iPad 3 upgrade cost in half, now's the time to lock in your price. Scarsella tells us that, "Once the launch happens, we'll see a downward spiral in price."
That's one of the nice things about Gazelle. If you lock in your price today, you have 30 days to send in your old iPad for that price.
I locked in $320 for my iPad 2 32GB WiFi yesterday, which should hold me over til the iPad 3 release date. Gazelle has been known to work with users if an Apple launch is later than expected.
What About "One More Thing"?
Thanks to a plethora of data, and planning Gazelle is ready to adjust their pricing model to reflect almost anything Apple announces on stage in March. If Tim Cook announces the iPad 3 for $499 and a smaller 7 or 8 inch iPad, there's a pricing model ready to go. If Apple lowers the price of the iPad 2 to $299 or $399, they have that covered as well.
Why Sell to Gazelle
There are many places to sell your old iPad, but Gazelle is continually one of my favorites. Scarsella lays out why customers choose Gazelle in four words, " Easy, simple, fast and safe".
eBay requires a wait to sell and comes with buyers who cancel, fees that cut into profits and the hassles of shipping. Add on the fact that you will have to wit to sell or be without your device for a week or two and the extra money starts to look like less of a deal.
You can also avoid shady parking lot meetings with people you meet on Craigslist. Trust me. I've sold an iPad on Craigslist and it's a tense experience meeting a stranger with a $600 iPad in a McDonald's parking lot.
Gazelle is simple. Lock in your price, print out the label and hand to your mailman.
Bottom Line
Bottom line, if you plan to sell your iPad 2 to cover the cost of upgrading to the iPad 3, this is the best time to sell to Gazelle. When we ran the numbers last week, Gazelle was offering the best price for the iPad 2, and offers a 5% bonus if you get an Amazon gift card.

As an Amazon Associate I earn from qualifying purchases.