Sell Your iPad 2 on eBay Like a Pro to Buy the iPad 3
With the iPad 3 release date pegged for the middle of March, you might already be thinking about selling your iPad 2 to upgrade to the new iPad 3.
If you are even considering selling your iPad or iPad 2, now's the time to get started because prices will soon be dropping faster than a slippery iPhone.
In order to help you get top dollar for your iPad, I went to a friend who has mastered the art of selling Apple gear like the iPhone and iPad on eBay at the right time, with the right options, to upgrade to the newest Apple gadgets for next to nothing.
Just like we saw with the iPhone 4S, eBay selling prices will start to drop two to three weeks before the iPad 3 announcement, which is right now. Based on the best guesses, Apple will announce the iPad in the first week of March. As you can see on this graph from Nextworth, the iPad eBay prices should start to take a hit this week or next, with another 20-25% drop when the iPad 3 launches.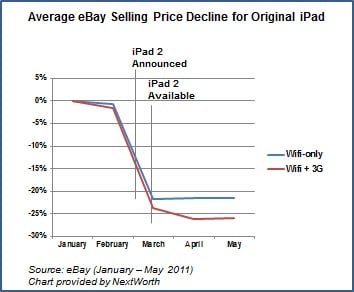 In order to get ahead of the curve on eBay, you may have to live without your iPad for a week or two, but if you can make an extra $50, it may be worth it. If you don't want to mess with selling on eBay, check out Nextworth where you can lock in a price for 21 days or Gazelle where you can lock in a price for 30 days.
We don't expect to see iPad trade in values climb like they did with the launch of the iPad 2.
Sell Your iPad 2 For More on eBay
Becki Thompson is an Apple junkie and scientist with a knack for getting top dollar for old Apple products. You can follow her on Twitter for fun Apple news and science tweets.
Last year Becki sold two old iPads for $400 and $469 on eBay after the average selling price dropped 25%, based on Nextworth's eBay data. Here's how she did it.
Listing
When it comes to your description and auction listing, don't just rely on eBay's product database listing and a stock photo.
Instead, use as many buzzwords as you can in your title, and Becki suggests using a subtitle to include brand names of accessories and including the word gift to attract buyers. If you have accessories, this is a good time to sell them and get a better price because Apple often changes the style of devices, forcing you to buy a new case anyway.
Include a lot of pictures of your iPad 2. Make sure you include any damage that may affect the value of your item. Describing a scratch or dent without a photo will turn off many potential bidders. You can upload the photos to a service like PhotoBucket or pay eBay to host more photos. She also recommends purchasing the bold and gallery listing upgrades to stand out from the sea of iPad 2's that will be up for sale.
Internationally Known
One way she is able to increase her price and attract more buyers is to ship internationally. While this may be intimidating, if you require immediate payment with PayPal, you can avoid many of the hassles. Becki told GottaBeMobile, "Offering international shipping is likely to greatly increase your final sale price."
Timing
In order to get the best price for your iPad 2, you should pay attention to when you list your auction and how you list it. Becki describes the perfect listing,
"I always start my auction on a Wednesday afternoon and have it last for 3 days. That way when the auction ends Saturday afternoon people are at home and shopping.

Also I always start the listing at $0.99, with  no reserve and free shipping. Bidders see the low price and short time on the auction and start bidding right away. Bidders also like to see 'no reserve' because they know they are more likely to get a deal.

This can be a bit nerve wracking especially with popular items. Your auction won't be bid up until people see it on the first 3 or 4 pages. I've had my sale price double or triple in the last 20 minutes of the auction."
Follow these tips and you're almost certain to take home a high selling price for your iPad 2.
Auction vs. Fixed Price
If you want to keep the cut of your final sales that goes to eBay to a minimum, skip the auction and go for a fixed price listing. Instead of paying 9% of your selling price to eBay, you pay 7% of the first $50 and 5% of the remaining value. Becki shares that this is how she plans to sell her next Apple device.
Jailbreak & Unlock
Becki tells us that you can often get a better price on iPhones if they are jailbroken and unlocked. If you want to jailbreak your iPad 2, here are step by step instructions to jailbreak the iPad 2.
When You Get Your iPad 3
When you get your iPad 3, Becki recommends purchasing a Zagg Invisible shield to protect your iPad from scratches and wear, which will make it easier to sell it for more money when the iPad 4 or the 8-inch iPad is released.