Sell Your iPhone 4 Before iPhone 5 Announcement for $300 or More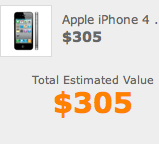 Apple fans intent on having the latest iPhone in their pocket can sell their iPhone 4s for more than $300 through electronics buyback services, such as Gazelle.com. The iPhone 5 may or may not be announced at WWDC 2011, but one thing is for sure. Your iPhone 4 will be worth a lot less once the iPhone 5 is introduced.
I've bought a new iPhone every June for the past four years and this month won't be any different if I can have my way. Of course paying $299 per year for a phone isn't something I'd like to do…so I don't.
Instead, I sell my used Apple gear to Gazelle BEFORE the new gear is announced. I sold my used iPad to Gazelle earlier this year to pay for my iPad 2 upgrade and I already sold my iPhone 4 to the company before the iPhone 5 is even announced.

Gazelle offered me $305 for my slightly abused iPhone 4, with minor scuffs and scratches. I don't have the original cables, but that didn't change the offer price. I paid $299 plus taxes for my 32GB iPhone 4, so that means I'll recoup almost the entire purchase price. As of Sunday evening, Gazelle was offering $326 for iPhone 4s in flawless condition.
Of course the iPhone 5 hasn't been announced yet and it may NOT be announced at WWDC. But that's ok. I have 30 days to send Gazelle my iPhone 4 or change my mind.
If you're itching to upgrade to an iPhone 5, I suggest you head over to Gazelle.com or one of its competitors (such as NextWorth.com) NOW to get the best price possible. I've tried other trade-in services before, but keep coming back to Gazelle because of its 30-day return window and customer service.
One word of caution – you do need to accurately describe your iPhone 4 to Gazelle. If it does not arrive in the condition you described, you'll be offered a significantly lower amount of cash.
Visit Gazelle.com to see what your iPhone 4 is worth before and after WWDC.