Sena Florence Portfolio For iPad Delivers Extras to Business Users
Sena makes amazing cases for mobile gear, and the new Sena Florence Portfolio looks like it will live up to those standards and offer an attractive feature-set for business users.
The Sena Florence Portfolio is a new leather iPad portfolio that delivers everything a business user needs in a slim package.
Sena offers a pre-order for the Sena Florence Portfolio for $109, $10 off the final retail price. The case starts shipping within the next two weeks.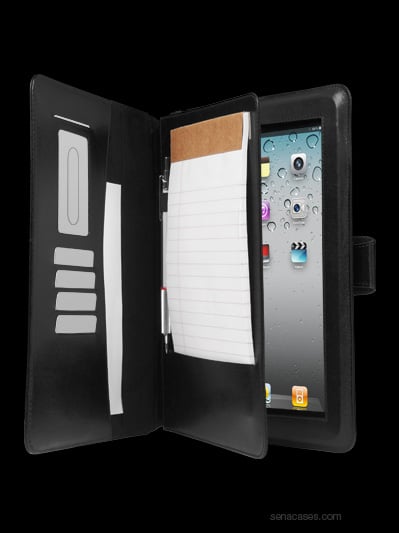 The Florence Portfolio caught our eye because it includes a number of handy extras, including a place to take notes on paper. There are hundreds of iPad note taking apps, but none of them match the speed of a pen and paper for notes. I take notes on paper and then import them to Evernote with my iPhone or iPad camera, a use case that the Sena case understands.
Behind the notepad is the iPad, protected by a microfiber lined back. The case allows users to angle the iPad for watching movies or typing. The Florence portfolio uses magnets to wake and sleep the iPad and includes a snap enclosure to keep the cover closed.
The front flap of the portfolio includes 4 credit card slots and 2 multi-purpose pockets for extra storage. The case comes in red, black and brown.
The Florence Portfolio isn't for everyone, but users that want to carry everything that was in their last portfolio it is a great looking option. Business users will especially appreciate the look and extras included with the Sena Florence Portfolio for the new iPad.