Sena WalletSlim iPhone 4S Case Review: iPhone Wallet Case
The Sena WalletSlim is a sleek iPhone 4S wallet case that carries two cards and a few bills without the bulk and annoying flip cover found on most wallet cases for the iPhone 4S.
Sena offers the WalletSlim case in five colors and in a black and red crocodile finish. Sena sent over the black and orange WalletSlim cases to review which I've tested for the last few weeks.
The leather iPhone 4S wallet case looks and feels great. I have no worries that this leather will hold up over time.
I love leaving my wallet at home while I head out with my ID and a debit card in the card slots. There's also enough room for 2 or three bills behind the iPhone. This means I can go all day with just my iPhone and my keys.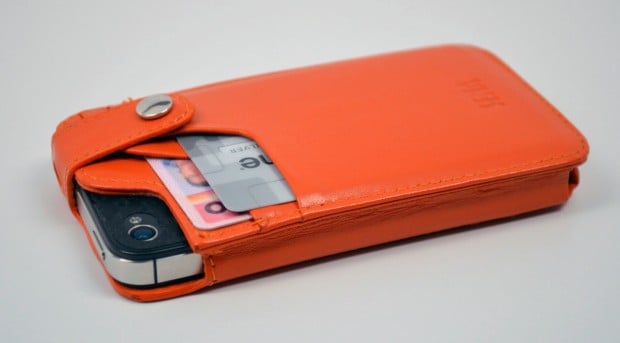 Unlike many of the iPhone 4S wallet cases I've looked at, the WalletSlim allows full use of the device without flipping or opening a cover. The camera is open on the rear so I never missed any photos while using the WalletSlim.
Cards are easy to insert and remove, though it takes a few days of use before they slide in and out as easily as I like.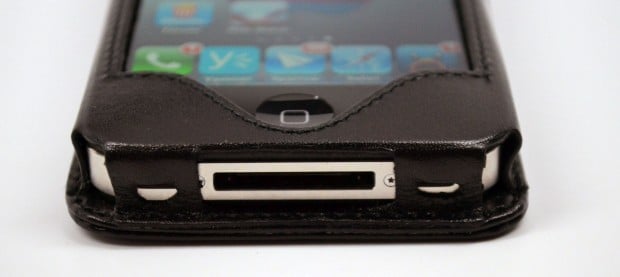 The dock connector, volume buttons and headphone opening are all accessible while the iPhone is in the case.  A small strap goes over the headphone area snapping on the rear to keep the iPhone 4S inside the case and to keep cards from slipping out. There is an opening for headphones in this strap.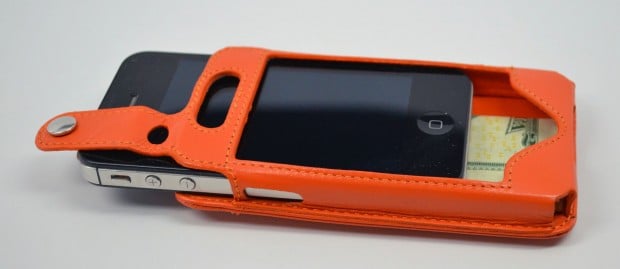 The only issue I found is with the leather edges that but up to the edge of the iPhone display. I tap on the top of apps to scroll to the top of notifications all the time and I found it harder to hit the top edge of the screen with the WalletSlim on. The leather is close to the side edges of the iPhone display too, but this wasn't an issue in apps or while typing on the on-screen keyboard.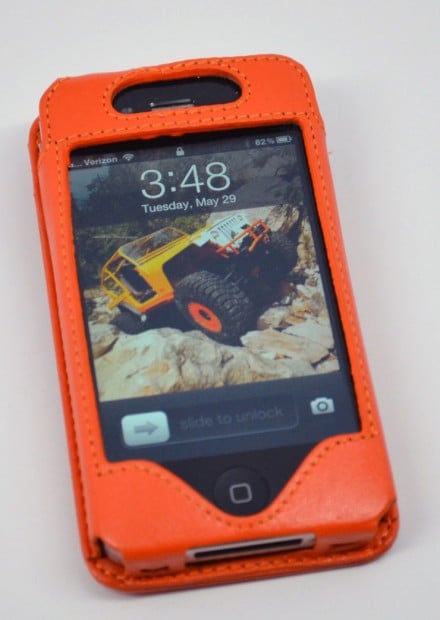 Overall I'm incredibly pleased with the Sena WalletSlim case. It is incredibly well-built and looks great in person. I tried the orange color for a week, but went back to black. The orange looks great in person, but I prefer the toned down black leather look.
The Sena WalletSlim case is available from Sena for $44.95.
Enter to win a Sena WalletSlim iPhone 4S Case
Sena WalletSlim Gallery

As an Amazon Associate I earn from qualifying purchases.