How to Send Directions to Your iPhone from Your Mac
OS X Mavericks comes with a new desktop version of Apple's Maps app, which lets you explore roads and highways in full-screen mode, as well as get directions right from your computer. This is great and all, but those directions don't do much for you if they're stuck on your computer and you have to head out of the house. Fortunately, there's an easy way to get those directions onto your iPhone.
The Maps app in OS X Mavericks allows you to instantly send directions or other map information right to your iOS device, that way you can easily head out the door without having to look up the directions a second time; it's a lot quicker and more convenient to look up directions and explore maps on the desktop, and once you've found what you're looking for, you can switch it over to your iOS device when you leave. Here's how to do it.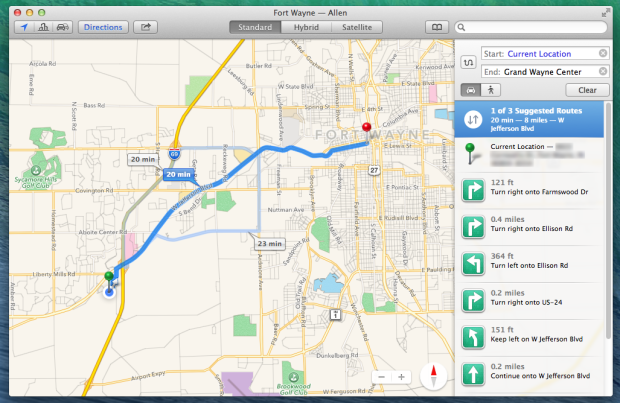 Sending Directions from Your Mac to Your iPhone
Open up the Maps app on your Mac (you'll need OS X Mavericks), and click on Directions in the upper-left corner. A right-hand sidebar will pop up where you'll enter in your starting and ending locations. Your starting location will most likely be your current location if you're leaving from where you are now. This should already be filled in for you, but if not, just type in Current Location in the starting location text box. Be aware that on your Mac, WiFi will need to be turned on in order for the desktop Maps app to access your location. You mostly likely already have your WiFi on, but the app has pestered me plenty of times because I was plugged into ethernet and had my WiFi off.
Next, type in your ending location and press Enter. The app will provide you with directions, as well as several different options for getting there, but the first option is usually the best, as it'll be a shorter and takes less time. If you're happy with what you see, Go up to the toolbar in the desktop Maps app and click on the Share button. It will be an icon with a box that has an arrow shooting out of it.
Once clicked, you'll see a bevy of options, including sending the directions in an Email, in an iMessage, or sharing it on Facebook and Twitter. However, the option you want is Send to iPhone (or whatever your iOS device is named). Clicking on that will instantly shoot these directions to your iPhone and you should get a notification a couple seconds later. Tapping on this notification will open up the Maps app on your iPhone and will automatically bring up the directions that you looked up on your Mac.
All you have to do now is click Start in the upper-right corner and turn-by-turn directions will begin for you. Happy and safe travels!

This article may contain affiliate links. Click here for more details.