Send Large Files With Dilbert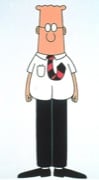 Sending large files can sometimes be a pain if you're not using FTP or a service like sendyourfiles.com. Well, Scott Adams, the creator of Dilbert has come up with a nifty little method of sending those large files working with sendyourfiles.com. He's calliing it Dilbertfiles.com.
As the more technical among you know, there are a number of options for sending large files. Some of them are even free, although without the features or convenience of dilbertfiles.com. For example, with Dilbertfiles.com you can download a plug-in for Outlook and send large files without even going through a web page. And if you do use the browser interface instead, you get to watch some free Dilbert comics while your file is transmitted. You also get to watch Dogbert vigorously whip the progress bar, which feels better than you'd imagine.
You can check it out on the Dilbert Blog or go here to sign up.