Sensus iPhone Case Adds Vita-like Backtouch
A new iPhone case from Canopy adds backtouch to the iPhone 4/4S to make it possible to play games without on-screen controls or worrying about thumbs getting in the way. The backtouch feature is similar to what's found on the PlayStation Vita .
The new Sensus case also works with non-game apps so users can interact with their iPhone without putting their fingers on the screen.
The Sensus case is available for pre-order now for $39, with deliveries beginning in the first quarter of 2013 . The Sensus case will retail for $59, so users save $20 by pre-ordering and waiting for a while. The case only works on the iPhone 4/4S/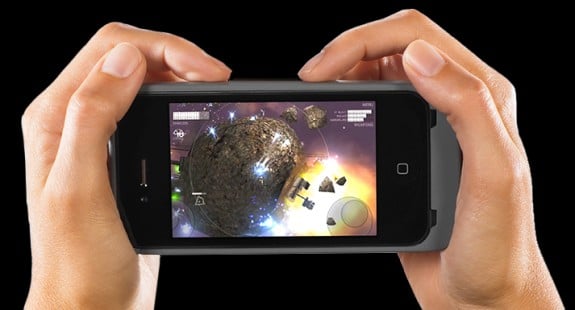 There is an iPhone 5 and new iPod touch version in the works, which Canopy estimates will ship in Spring 2013.
The iPhone 4/4S limitation is because the case connects and draws power from the 30-pin Dock Connector on the iPhone. Canopy needs to wait for Apple to give third-party manufacturers access to the Lightning port.
The latest rumors estimate Apple will hold a seminar in China in November where it will discuss Made for iPhone program participants can utilize the Lightning port in their third-party iPhone 5 accessories. Accessories that use the Lightning port should follow shortly thereafter.
Canopy has an SDK for developers that want to add Sensus capability to their apps. The company estimates that it will have the private SDK available later this month.
Canopy insists that "developers are excited" for the Canopy on its website, but does not mention any specific developers or compatible apps.
A demo video on the Sensus product page shows someone playing Temple Run with the case, but at the end has a small disclaimer that Temple Run does not endorse the Sensus case.