September Black Ops 3 Update: What's New in 1.16
The September Black Ops 3 update 1.16 is out now on PS4 and Xbox One, bringing many changes to Call of Duty: Black Ops 3.
This is what you need to know about the September Black Ops 3 1.16 update, including what's new and what we know about the broader rollout. This is a 2.5GB update on the Xbox One.
Starting in the afternoon on September 6th the Black Ops 3 1.16 update arrived on the PS4 and Xbox One. This is the first September Black Ops 3 update, and it is connected to the Black Ops 3 DLC 4 release date on PS4.
Here's what's new in the September Black Ops 3 1.16 update on PS4 and Xbox One.
What's New in the September Black Ops 3 Update
The first September Black Ops 3 update includes changes to multiplayer and zombies in Call of Duty: Black Ops 3, including issues with contracts, changes to specialists and more. The links below point to where the changes are listed, or you can keep reading.
General Black Ops 3 September Changes
Addressed an issue where a user would occasionally lose menu functionality upon joining a game.
Addressed a lobby issue when all members of a party did not have the same maps.
Switching a lobby to a CWL game mode no longer displays debug text.
Addressed an issue that caused overlapping text during the Ban/Protect phase of a CWL match.
New Emblem and Calling Card breadcrumbs are now behaving properly.
After unlocking all Calling Cards in a Black Market set, the Featured Card will now be properly animated.
In-Game Store:
CWL Champions Pack:

CWL Champions Pack is now available to purchase for 200 COD points.
Contains a unique CWL themed weapon camo.

CWL Team Packs:

CWL Team Packs are now available to purchase for 500 COD points.
Each Package contains a Calling Card and Camo for each team in that region.

ANZ:

Excellence
nV
Orbit GG
Tainted Minds
Mindfreak

EU:

Team Infused
Millennium
Splyce
Epsilon
Supremacy
LDLC

NA:

Optic Gaming
Faze Clan
Rise Nation
Team Envy
Team Elevate
Cloud9
Black Market:
Contracts:

The activation prompt for Blackjack Mercenary Contracts will now function properly.
Fixed a string issue in the 'Replace Current Contract' prompt.
Specialists:
Nomad:

H.I.V.E:

Kills with the HIVE gun will now properly count towards the "Tools of the Trade" Contract. 
Create-A-Class:
Resolved an exploit whereby players could equip any currently locked Black Market weapon.
Black Ops 3 August Zombies Changes
General
Resolved an issue that blocked the ability to start a Public Match on some maps.
Addressed a theater animation issue that occurred when watching older films.
Fixed a bug that caused the Death Machine to show an ammo count after viewing the in-game scoreboard.
Gorod Krovi
Addressed an issue where players would not benefit from a Max Ammo power up if they are riding the dragon.
Resolved an issue where players could jump onto the Gigant Finger Trap to exploit zombie pathing.
Addressed a bug preventing the player from picking up a quest item inside the Groph Module, when using the Gauntlet of Siegfried.
Fixed a rare issue where the player would not be able to pick up a power up when a Groph Module would land between the Armory and Supply Depot.
Addressed a rare issue when the Game Over screen will display missing geometry behind the score board.
Zetsubou No Shima
Addressed several GobbleGum issues relating to Zetsubou No Shima map features.
Shadows of Evil
Resolved a bug that caused the Margwa to appear incorrectly at longer distances.
Black Ops 3 Updates & Hotfixes
Since this update we've seen a number of small hotfixes deliver important changes to your Xbox One, PS4 and PC. These are listed below, and will factor into the patch notes.
The Call of Duty: Black Ops 3 72.4.10.*.0 hotfix is out now on PS4, Xbox One and PC. It fixes problems with Match Cryptokey rewards and Contracts Cryptokey rewards as well as issues in DOA and Zetsubou No Shima. It also fixes a leaderboard issue that only showed people in your party, not in the match.
Treyarch rolled out the 65.19.25.7.0 hotfix just a day before the Eclipse DLC 2 release on Xbox One and PC. This includes fixes for User Interface bugs in Challenges and Der Eisendrache gameplay bugs.
In the 65.18.23.7.0 hotfix Treyarch disables Double XP and removes an Awakening promo.
In the Black Ops 365.14.18.7.0 hotfix there are fixes for issues and it turns on Groups on PS4 after a collection of issues with PS4 Black Ops 3 groups. You choose what the group is, and you can join multiple groups as well as control the privacy of each group
In the 62.11.19.7.0 hotfix we see changes to the Zetsubou No Shima Zombies DLC including, "the awesome white box that appeared over your head when you had the Castle tram token." Check out more hotfix changes.
On April 20th the 62.2.7.7.0 hotfix addressed DLC 2 issues, and only comes to users who already have the 1.09 update. The fixes include, improvements on map collision from DLC 1 to DLC 2. Treyarch is looking at a code issue to fix glitches that users found.
https://twitter.com/DavidVonderhaar/status/722854019127902211
On April 14th the 59.29.38.7.0 arrived with routine housekeeping.
On April 12th the 59.24.34.7.0 hotfix adds a new Black Market bribe that guarantees a Taunt or Gesture. This costs 300 Call of Duty Points or 60 Cryptokeys and the offer expires on April 14th at 10 AM Pacific, 1PM Eastern. This is the latest option like this, which could be leading the way to a Weapons DLC bribe. The initial message only mentioned Call of Duty Points as the way to buy this bribe. We are still waiting for a more detailed list of changes.
On April 8th the 59.21.30.7.0 added turned on the Double Cryptokey and Double Liquid Divinium weekend, fixed Shadowclaw audio issues and included behind the scenes script fixes for streaks, challenges and taunts
On April 6th the 59.20.26.7.0 hotfix added behind the scenes fixes, fixes for Zombies exploits and fixed an issue with Black Ops 3 prestige calling cards.
On April 1st the 59.14.24.7.0 hotfix arrived to turn on the Double Double XP weekend in Black Ops 3, open up free Awakening Black Ops 3 DLC to PS4 owners and included tuning changes to the Tag & Bag challenge.
On March 29th the 59.9.17.7.0 fixed bugs, exploits and Zombies Prestige issues. This fixes a Shawdowclaw bug, but does not change the weapon states. The hotfix also fixes un-named exploits and contains a fix for the ZM Master Prestige Calling Card not unlocking according to the short patch notes
On March 28th the 59.8.13.7.0 hotfix removes the Nuk3town playlist and puts Chaos Moshpit back in.
On March 25th Treyarch made changes to the Black Ops 3 in game store, but did not offer detailed changes. It was around this time that we saw a leak mention the Black Market Arms Dealer. If true, there may be a way to spend 150 Cryptokeys and get a guaranteed new Black OPs 3 weapon or spend 1,000 Call of Duty points.
On March 24th Treyarch released a new March Black Ops 3 hotfix 59.5.13.7.0. This update includes, "UX fixes/improvements & new griefing protections in MP; exploit fixes in ZM."
On March 22nd we learned that there are new Black Ops 3 guns, melee weapons, taunts and specialist gear in this March Black Ops 3 patch.
Some users are seeing a number of Call of Duty: Black Ops 3 problems after the earlier hotfixes and updates. If you experience issues, check out how to fix Black Ops 3 problems and make sure you update to the latest hotfix.
Salvation Black Ops 3 DLC 4 Release Date Details
Citadel Black Ops 3 DLC 3 Map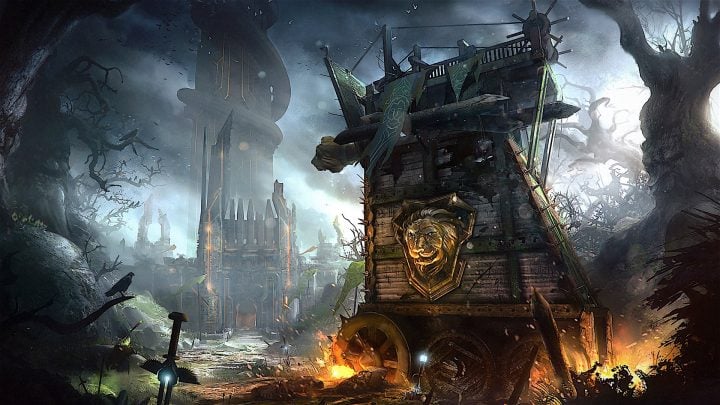 Dive into Citadel, one of two brand new Black Ops 3 maps in DLC 4. This map sits on the former home of a powerful sorcerer and focuses on close quarters combat that will test your reflexes and your tactics.
This is a mid-size map that will force you to fight up close, but there is still a drawbridge and a moat that allows for wall running and jumping that are key to Black Ops 3.

As an Amazon Associate I earn from qualifying purchases.