Seton Hall Gives Nokia Lumia 900 to Incoming Freshmen
Seton Hall is giving every incoming freshmen a free Lumia 900 to help them be more connected in the upcoming Fall semester.
According to Nokia Conversations, every freshman at Seton Hall University this year will receive a free Lumia 900 during Freshmen orientation. The phone will come with a pre-installed SHUMobile app that will let the students connect to one another and find campus news easily.
Giving every incoming freshman a new smartphone sounds like a good idea, but why the Lumia 900? The university chose the Nokia flagship phone because it wanted a durable phone that a college student can't break easily. The school also wanted a phone that easily interfaced with its IT infrastructure, which is very Microsoft-centric.
The university also works with Microsoft on a number of other projects.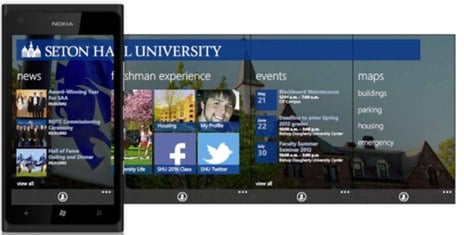 Seton Hall will use Nokia Data Gathering to send helpful information to students after they receive their phones. The system will also help the university find out how the students use their new smartphones and other devices. Hopefully the system doesn't track too much data, or the university might have a few problems.
Each Lumia 900 comes complete with a prepaid phone plan that will last until the end of the Fall semester, at which point the students will need to sign up for their own contract if they want to keep it. AT&T will make sure the university has reliable 4G data for the students, though we're not sure if that means "4G" or 4G LTE.
The plan sounds like a great idea, though we're not sure how great it is for a private university like Seton Hall. With the glut of affordable smartphones on the market, we assume many incoming freshmen will already have a smartphone of their own. If so, the free Lumia 900 might just waste away in a drawer somewhere unless the students really like it.
Seton Hill is also famous for giving an iPad to every incoming freshman in 2010.

As an Amazon Associate I earn from qualifying purchases.