Several takeaway moments from CES
As much as I love attending CES to cover all the latest Tablet PCs and UMPCs, my favorite event of the week is always the Tablet PC meetup.
With each year, the event has gotten bigger and bigger. I believe we had well over 100 people in attendance. Although the food was good, there was not much time to eat because of all the great conversations. I spent a good 20 – 30 minutes talking with Steve from Fortune Fountain, the makers of DialKeys. They've got some new skins coming out that will greatly enhance the user experience on UMPCs. One of the coolest new skins was a one handed skin meant to be used when the umpc is docked in a car. Very cool.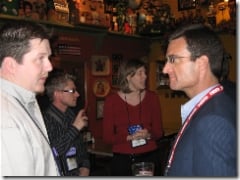 There were several takeaway moments for me from that evening, and they showed the importance the community is to the OEMs. Motion Computing's Scott Eckert was in attendnance, and spent a great deal of time talking with enthusiasts. In addition to Scott, Motion's Product Manager, Marketing Manager, and PR Director were also there – that is impact. In the picture to the right, Scott is chatting with Matt Faulkner, with Lora Heiny and Kevin Tofel in the background. Warner posted about their Tablet PC giveaway earlier, so I won't repeat that here. I have a video interview with Scott coming up in the next couple of days.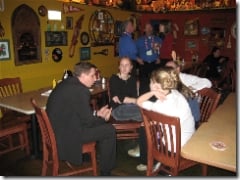 Another takeaway moment for me was this shot: Martin Smekal, CEO of TabletKiosk, sitting down and chatting with Layne Heiny's daughter's. He didn't sit down with them for just 10 minutes – he interacted with them for close to an hour about what they like / don't like about UMPCs, accessories, experiences, etc. He listened more than he talked – and that is important. That is the kind of thing you only see happen at an informal event like the Tablet PC / UMPC meetup.
Among other hardware and accessory companies represented were VIA Technologies, component digiizer company N-Trig, and LCD Arms, the maker of the Tablet Arm. We unsuccessfully tried to make it by to see LCD Arms during the showroom floor time, so it was good to see them at the meetup demoing their product. Look for them to take a serious look at automotive mounting solutions.
I'm working on a wrap-up post summarizing my thoughts from CES. Look for similar posts from all four of us.