Shakesperience Brings Some Life to the Bard on iOS
Being a theatre geek and a lover of Shakespeare I always pay attention when I see products that work to educate and excite about William Shakespeare. Call me biased, but I happen to think that his creations are magnificent windows into the human soul. If we could all forget what our 10th grade English teachers taught us about Shakespeare so that we could experience his work for what it really is, we'd be better off as a people. He nailed who we are as humans, and not too many have equaled him since. But alas, far too many of us were turned off to Shakespeare at an early age. If the Bard were writing today, he'd be doing film, and quite a bit better than what we see on our screens currently. But that's my opinion.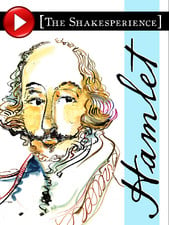 Anyway, there's a series by Sourcebooks, Inc that brings three of Shakespeare's most popular plays to the iBooks platform. Hamlet, Romeo and Juliet, and Othello are the current titles, but they get a suffix that brands the series such as Hamlet: The Shakesperience, Each title promises more than the Bard's poetry in a book format. (Note there are already quite a few different ways to experience Shakespeare on iOS, from books to Apps. I carry around the Complete Works with me on my iPad.) This series uses Apple's iBook Publisher software to bring Shakespeare to iOS and loads up the experience with multi-media from pictures to audio. (Some articles and reviews about these books are saying video is available. It is not. UPDATE: there is video in Othello. I somehow missed it. Note the comments to this post for more on this. ) Each title features different well known and historical performers such as Derek Jacobi, Laurence Olivier, Kenneth Branagh, and Judi Dench others among performing the audio. In Othello features historic readings from F. Scott Fitzgerald.
It also has blue highlighted text that allows you to get embedded glossary info and context on some of the language that can indeed feel a bit foreign. The series promises a more engaged method of learning Shakespeare and from what I'm seeing it offers interesting material to satisfy existing Shakespeare lovers as well as those new to the Bard.
The UI works reasonably well, though it could be better. For example you have to make two taps to get to a table of contents, when I think one would suffice. It would also be nice to have an index of the multi-media content so that you didn't have to scroll through the play to find a segment when you want to re-reference something.
All in all I give the Shakesperience series high marks and hope they continue with their plans to provide more of the Bard's canon. Each play sells for $5.99.
Do note this though. I'm not sure if this is the publisher's fault or iBooks. When trying to access the content from the product webpage on an iPad, I got a nice reminder that I need iBooks installed. Well, I have it installed, so there is obviously no checking going on there. Problem is when trying to back things out, everything crashed. I also had a crash in iBooks after I had used the free sample, and then decided to make the purchase of the full product. Not exactly a seamless experience.

As an Amazon Associate I earn from qualifying purchases.