Share your SD cards via wifi with AirStash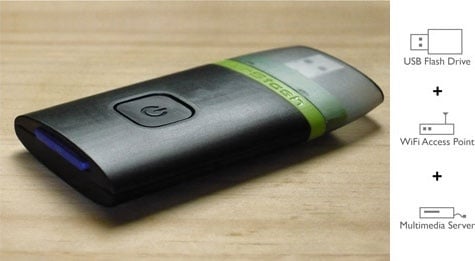 In an interesting spin on the usual SD card USB adapter, AirStash steps it up a notch with wifi connectivity and a web interface to turn your cards into mobile wireless file servers that can share photos, stream music and video, and show just about any content your device can handle.
The AirStash is battery-powered, advertising up to five hours of operation while streaming video, and charges via USB. Wifi connectivity is 802.11b/g with option for WPA2 PSK security. Price is $99.99, which sounds pretty good for a media server you can put in your pocket, but I wouldn't plunk down that much change without a specific purpose in mind.
They advertise it as expanded storage and camera adapter (for its SD card) for your iPhone, iPod touch, or iPad. That's appealing, but I sense greater potential than that. Perhaps a personal website that travels with you. I can see it being used by independent artists who want to share samples of their content wherever they are, adding an in-person touch to file sharing.
Via jkOnTheRun

As an Amazon Associate I earn from qualifying purchases.