Sharp Enters the Android Tablet Game with Galapagos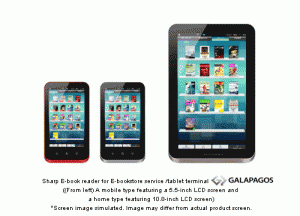 When I read "Galapagos" I think of Charles Darwin and his theories on evolution. Perhaps Sharp's choice of name for its Galapagos Tablets and media platform is inadvertently pointing to what will obviously become a "survival of the fittest" landscape when it comes to Tablets and Slates.
Sharp is unveiling its Tablet/Slate plans and it is media/reading centric. Galapagos is the name of both its eBook platform and two different sized Tablet/Slates its bringing to market. There's a 5.5 inch model and a 10.8 inch model. The smaller version comes with a trackball and a screen resolution of 1024 x 600, the larger has no trackball and a resolution of 1366 x 800. Both have WiFi and both are aimed at consumption. Sharp is promising 30,000 newspapers and periodicals available on release, which is supposed to be this December in Japan.
We're looking at Android here, but again this is focused on media consumption and there's no word yet on which version we're looking at, nor is there word about 3G connectivity at present.
Read the press release here.
Via CrunchGear
https://www.youtube.com/watch?v=O0KMJgKETnQ&feature=player_embedded

As an Amazon Associate I earn from qualifying purchases.