Sharp Shows Off Possible iPhone 6 Feature
At CES 2013, Sharp not only showed off flexible displays like Samsung, but maybe more importantly, the company showed off its IGZO display technology, the same technology that has been rumored to be coming with the next iPhone model, presumably called the iPhone 5S or the iPhone 6.
Read: iPhone 6 Release Date Again Pegged for Summer.
In Las Vegas this week, Sharp was in town at CES to show off not only its flexible display technology, which was unfortunately behind glass, but also its latest IGZO display which could play a big role in smartphones and tablets in the coming year. The company is currently offering IGZO technology on devices in Japan so it appears poised to deliver the technology on a wider scale in 2013.
Sharp touted the benefits of IGZO display technology to Gotta Be Mobile saying that the screen tech will not only offer better looking screens because of its ability to offer more pixel dense displays, but it also will deliver better battery life and better touch support for both smartphones and tablets of the future. In the video below, Sharp outlines the benefits of its IGZO displays.
Last year, Sharp was unable to get the technology to a point where it could deliver it to the mass consumer market which meant that only a select few devices were outfitted with the technology. In 2013 though, the company is looking to get the benefits of the display out to more than just a select few consumers.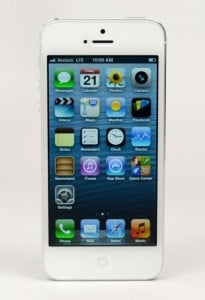 IGZO displays from Sharp were first rumored to appear in the iPad mini in October, but obviously, that did not happen. However, rumors swirling about the iPhone 6 suggest that Apple could be looking to offer the next-generation iPhone up with Sharp's IGZO display technology.
There are also whispers suggesting that Apple might include IGZO on the next iPad which could be an iPad fifth-generation or possibly a new version of the iPad mini. Or both. Apple is rumored to be delivering a new tablet in March, as it has for the past few years.
Read: $99 iPhone Launch Rumored for 2013.
The new iPhone, potentially called iPhone 5S or iPhone 6, is rumored to be arriving as soon as this summer, possibly with new colors, upgraded specs and possibly a cheaper iPhone model alongside it. It's also rumored to have an IGZO display which could potentially mean an iPhone 6 with even better battery life and a display with more pixels-per-inch.
Keep in mind, Apple rumors often don't pan out so it's possible that Apple will go in a different direction with the new iPad and the new iPhone in 2013.
Sharp declined comment when asked about whether or not the technology would arrive in Apple products set to debut in the next year.

As an Amazon Associate I earn from qualifying purchases.