Shazam Mac App Provides Always-On Music Recognition
Are you always wanting to know more about that song that pops up on the radio while you're browsing the web on your Mac in the coffee shop? Shazam has released a Mac app that can be ready at a moment's notice to name that tune.
Shazam is one of the most popular music recognition apps on the market, and it has been available on mobile devices for a while now, allowing users to launch the app and listen to any background music to name the artist and the title of a song that's playing on the loudspeaker.
This is a great app for when you hear a song on the radio or in a coffee shop and want to know more about it. This new Shazam app works exactly the same way as it does on mobile devices, but it's simply for Mac computers. However, instead of having to launch the app every time you want to know more info about a song, Shazam for Mac is constantly on and listening for any background music. Once it automatically identifies a song, you can have the app notify you with OS X's Notification Center.
From there, you can click on the menu bar icon and see instantly who the artist is and the name of the song, along with a quick link to iTunes where you can purchase the song. Furthermore, if you click the song itself, you'll be taken to Shazam's website where you can view the song's lyrics, listen to more songs from the same album, and even watch YouTube videos relating to the recognized song.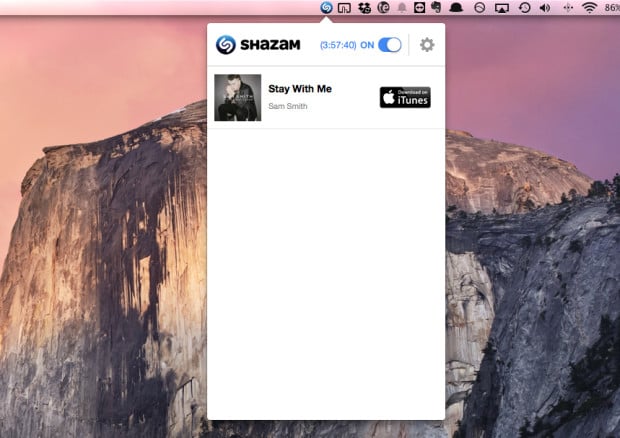 On top of albums, artists and music in general, if the audio is from a TV show or movie, Shazam will bring up data from IMDb and Wikipedia.
The Mac app does a pretty good job as you might expect from a powerful audio recognition app like this. It recognized music that I was playing from my iPhone and it even recognized background music in a TV show that I was watching.
Many users might still prefer to use the mobile app when they're out on the go, but if you're at a coffee shop or other public place doing some work on your Mac and a catchy song starts playing on the loudspeaker, the Shazam Mac app is about the best tool you can have in these instances, giving you direct access to more information about a the song without having to pull out your smartphone and launch the Shazam app.
However, it's worth nothing that Shazam will be integrated into iOS 8 when the new update launches later in the fall. This means that users won't even need the Shazam app to begin with, and it'll be a lot easier to pop out your iPhone and identify a song that's playing on the radio or in a coffee shop.
iOS 8 comes with a very similar user interface that practically remains unchanged from iOS 7, but it includes some very cool features that we've seen before in other apps, but are now coming to iOS natively. The Notification Center and Messages are just some of the aspects of iOS that are getting a big overhaul in iOS 8, which should make the mobile operating system much easier to use.
Apple says that iOS 8 will arrive at some point in the fall, with a specific release date still under wraps, but multiple beta versions will most likely release over the summer for developers to try out. As for an iOS 8 jailbreak, we should expect a couple of months after iOS 8′s official release, but hopefully it will be much sooner.

As an Amazon Associate I earn from qualifying purchases.