Shooting Mobile Video at CES 2012 with the mCAM (Video)
Here at CES 2012 we want to bring hands on videos to you as fast as possible, but we also want to make sure that you have good quality video. To do this, we paired the iPhone with a collection of great accessories from ALM to streamline the video editing process.
We have got questions all day about our recording setup, so I wanted to share the tools we are using and give you a better idea of why we chose to use an iPhone 4S to shoot our video instead of a $2,000 camera.
For more of my mobile gear, check out the Gadgets and Gear in my CES Bag.
After using the mCAM and mACAM light for a day, we are already impressed with the results, which you can see for yourself in the product videos at Notebooks.com and GottaBeMobile.com. Thanks to the other accessories, we even did well in poor lighting conditions.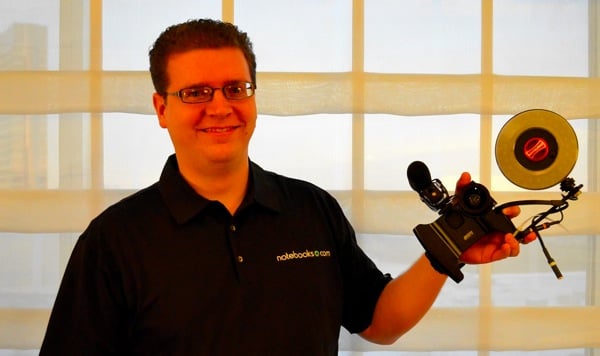 This photo taken at CES Unveiled gives you a head on view of the setup, but you don't get he full experience since the LED powered light isn't shining into the camera.
Mobile Video Editing Gear and Apps
I have the ALM Film Maker Pro Pack which retails for $429.95 and includes the great microphone that cuts out much of the awful crowd noise from CES, but you can also buy the mCAM by itself, or opt for the smaller mCAM light.
Bracket to Attach Rotolight to the side
Manfrotto Monopod
These tools have dramatically increased the speed with which we can get video up to the internet, and has allowed us to edit movies on the go.
Shooting Video on the iPhone with the mCAM and Rotolight
Mobile Video Editing Process
The shooting process is pretty fast on any camera, but the editing can take forever. With this setup we can still shoot in HD, with good sound, but we get it up to the web faster.
We record with almost DSLR, a $2 app that brings many controls to the iPhone's camera. We chose this app because it allows us to lock our focus, lock our exposure and lock the white balance. This means we aren't blowing out the colors or constantly focusing while going from gadget to gadget or gadget to person.
After we shoot with almost DSLR, you have to export to your camera roll. This process takes a few seconds for a one to three minute clip, and a few minutes for an evening's worth of shooting.
From there, we use iMovie to insert a bumper with our logo, a bit of text and then share the video to YouTube. This process allows us to edit and upload a video in the amount of time it would normally take just to import into iMovie or start the export process. By the time we get back to our room, we can have at least one movie uploaded to YouTube.