Should I Buy an iPad Air or Wait for iPad mini with Retina?
On Friday, Nov. 1 Apple will release the first of two iPads, the iPad Air and the iPad mini with Retina display, also called the iPad mini 2. The iPad mini 2 with Retina display will not hit stores till later in November.
So, should I buy an iPad Air this week or wait for iPad mini with Retina display later next month?
A quick answer says get the iPad Air for doing work and the iPad mini for entertainment and playing around. That's too simple since many prefer to watch video and play games on a larger screen and others want portability and will carry a stylus and external keyboard with the smaller iPad mini. Also, some can't afford the larger iPad Air even though they'd prefer it.
Here's our advice to help the average buyer decide between the iPad Air and the iPad mini 2 with Retina display.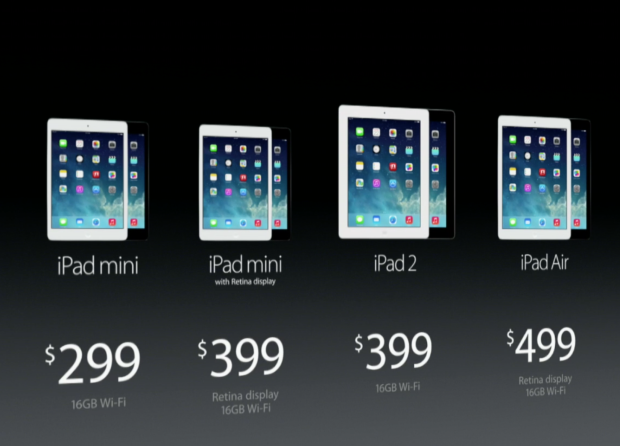 Price
Price conscious buyers should set a budget and stick to it. People who can only afford a $400 iPad must get the iPad mini with Retina display which will sell for $399. However, buyers might want to opt for the older iPad 2 at the same cost. We don't think that's a good idea for the 9 reasons we already posted. We only recommend the iPad 2 for people who must have a larger 10″ iPad now. A better choose is to save for the $500 iPad Air. Save up the other $100 and wait to get the better iPad Air instead of the iPad 2, or buy a refurbished iPad 4 instead.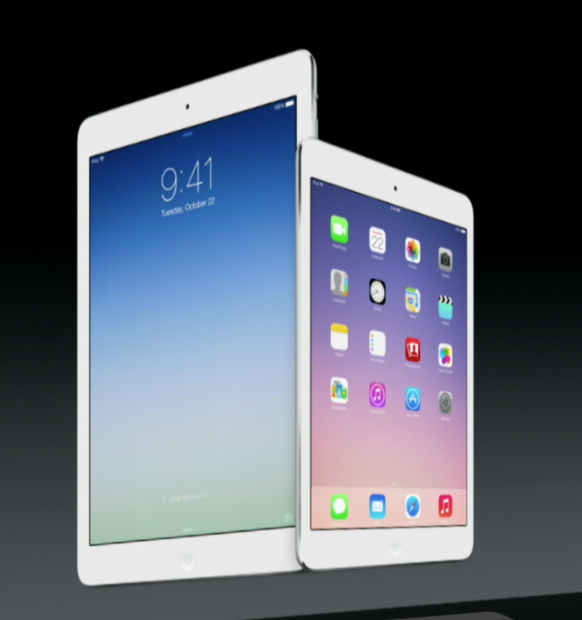 Once a user decides which iPad to get, they must choose the storage size. Prices start at $399 for the iPad mini 2 with 16GB or $499 for the iPad Air in the same size storage. Apple adds $100 for each storage increase increments going to 32GB, 64GB and 128GB, which will cost $699 for the mini and $799 for the Air. Add $130 to each for an LTE version.
At the largest storage level, iPad Air buyers pay $5.46/GB for a Wi-Fi only device and $6.24/GB for the LTE version. Compare that to $31.19/GB for the 16 LTE model and $24.94/GB for the Wi-Fi only model. The 128GB LTE iPad Air model offers the best price per GB ratio, but only a few people will really need that much storage. People who like to get a bargain but can afford a larger storage, will actually get a better deal per GB if they go big.
We've got more in-depth buying advice for storage size on the iPad Air.

I Can Wait v. Gotta Have It Now
This one's simple. Impatient buyers should buy an iPad Air since it will ship on Friday while the mini won't come till later in November. People who can wait can choose based on better criteria. Buyers control the urges and make their choice based on the other criteria listed here. Waiting one month will make users more happy over the year to three years they will likely own the iPad, if they really wanted and needed an iPad mini instead of the larger iPad Air.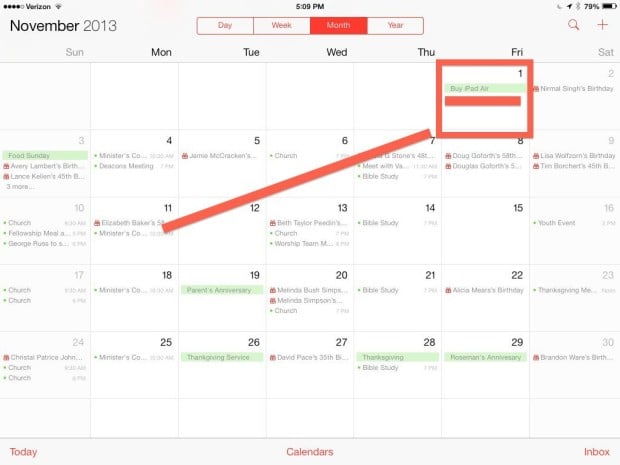 Device Size
The two iPads look the same and function almost identically, however the device size difference makes a big difference. An iPad Air seems large while holding it compared to the iPad mini. An iPad mini will fit in a purse or a small pocket on a piece of luggage or computer bag. It feels like carrying a day planner or a thin book instead of a letter-sized notebook with the iPad Air.
The iPad Air, no matter how light it feels, will not match the iPad mini's portability. People who will hit the road and don't need a big screen should go with the iPad mini with Retina display.

Anyone planning to replace their laptop with the iPad and a keyboard will want the iPad Air. A keyboard case will feel more comfortable with the 10-inch Air since the keyboard's width won't feel as cramped, especially for people with big hands. Typists can get an external keyboard, like the Apple Bluetooth keyboard or the Logitech Tablet keyboard and pair it with the iPad mini as easily as they can pair with the Air, but serious typists won't want to carry two pieces of hardware. Getting a keyboard case will feel more like a laptop since it fits in one carrying case.
Other Uses
Here's a list of other uses and the recommended iPad size.
Book reading – for text only get an iPad mini but for textbooks get an iPad Air since they likely include charts, drawings and pictures
Magazines – get an iPad Air since images and graphics need a bigger screen
Gaming – get an iPad mini unless you prefer a larger screen
Office work – get an iPad Air with a keyboard case unless portability is more important that typing comfort
Note taking – get an iPad mini and a good stylus unless you draw a lot of images
Art – get an iPad Air for more canvas space
Watching videos – pick your preference between large screen or more portability

This article may contain affiliate links. Click here for more details.