Should I Buy The New iPad 3?
Apple has launched the new iPad 3rd generation, which is available for pre-order starting today. The question we've heard all day is: "Should I Buy the new iPad?"
If you've waited to buy a new tablet or iPad, this is one of the best times to buy.
The new iPad, which many users are calling the iPad 3 because it is the third generation iPad, starts at $499. The iPad 2 is also available for $399, if you don't need all the new features.
(Read: New iPad Announced)
With color options, different capacities and 4G LTE options, there are many new iPad models to consider.
The new iPad 3 commercial shown below highlights the new features of the iPad in 31 seconds.
https://www.youtube.com/watch?v=DJxZ0HVQXo8
There are three main features of the new iPad 3 that are worth considering when you are trying to decide if you should buy the new iPad. We'll walk through the new features to help you decide if you should buy the latest and greatest, or if you're better off saving a few bucks and buying an  iPad 2.
Do you want an Awesome Display?
The new iPad has a Retina Display, which delivers an amazing 2048 x 1536 resolution on a 9.7 inch display with 263 pixels per inch.
Why does all of this technical mumbo jumbo matter? The new iPad's Retina Display delivers crisper images and text. If you've used an iPhone 4 or iPhone 4S after using an iPhone 3GS, you've already experienced this difference.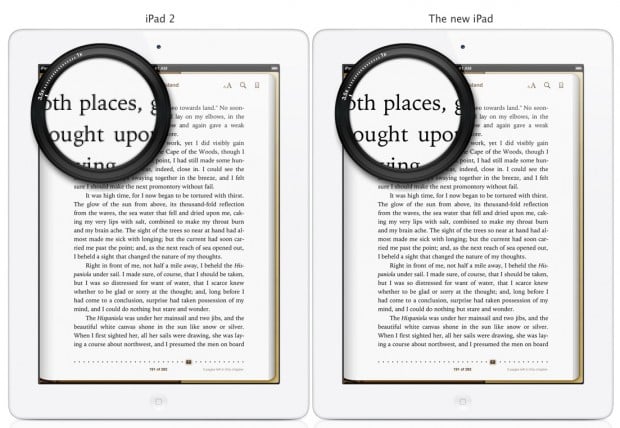 Look at the sharper text in the sample above, and notice the better photo quality on the image below.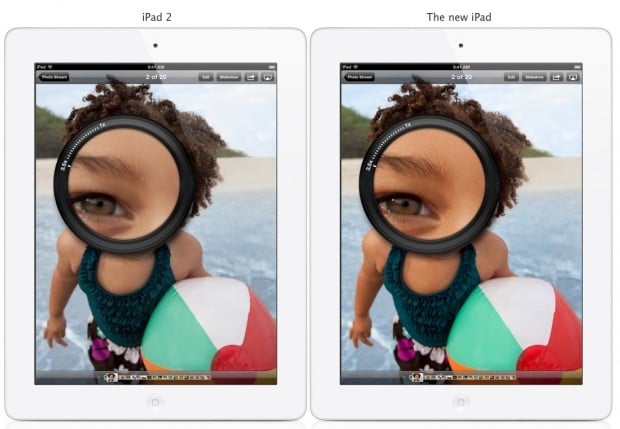 Even in Mail, you'll notice a difference, as shown below.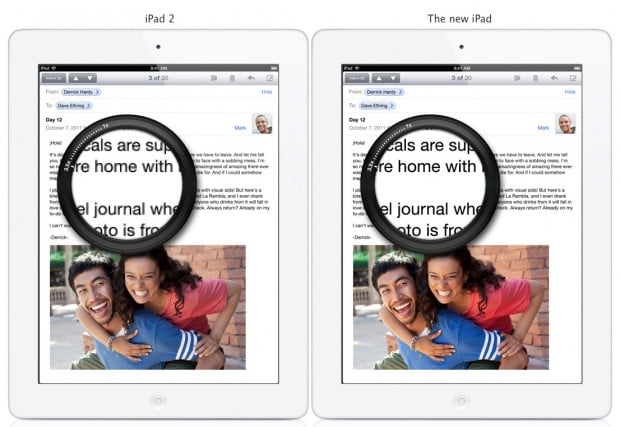 Combined with the new 4 X better graphical power, you'll also enjoy HD movies and games like Epic's Infinity Blade: Dungeons.
In short, if you love having an awesome display, the Retina Display might be worth the upgrade alone. It certainly is a deciding factor for users like our own Adam Mills.
Do You Want to Take Photos With Your New iPad?
The new iPad has a vastly improved camera. The iPad 2's camera is worthless for most occasions, but the new iPad's camera shares a sensor with the iPhone 4S and has an improved lens. Apple is calling this 5MP camera iSight.
These improvements come together to deliver noticeably better photos on the iPad. You can compare samples from the iPad 2 and the new iPad, or just check out the new iPad sample below.
The new iPad's iSight camera also records video in 1080P with image stabilization.
Do You Need Fast 4G LTE Speeds
The new iPad adds 4G LTE, a new cellular technology that enables connections 10 times faster than 3G. Verizon's 4G LTE network covers 200 million people while AT&T's younger network only covers 75 million.
In the video below you can see how much faster 4G LTE is vs. the 3G connection in the iPhone 4S. Even though the AT&T iPhone is reporting 4G in some areas, the new iPad's 4G LTE connection will blow it out of the water.
If you routinely use your iPad while on the go to watch video, upload and download large files and remotely connect to a desktop, the 4G LTE speeds will come in handy.
The 4G LTE iPad is $130 more than the base model iPad at each capacity level. This price premium means you don't need to sign a contract. Instead you pay a monthly fee of $14.99 to $80 for between 250Mb and 10GB of data. You can also use the new iPad as a personal hotspot without any additional monthly charges.
If you already have a 4G LTE smartphone or mobile hotspot, you may not need to purchase the iPad WiFi + 4G LTE, unless you don't want to bother with connecting to a hotspot. The other issue to consider is that the iPad with 4G LTE can last 9 hours, much longer than current 4G LTE phones in with a personal hotspot running.
Do You Want to Game on the iPad?
If you want a tablet for gaming, the new iPad is the best option out there. When you combine the new Retina Display with the Apple A5X processor, you end up with an incredibly powerful gaming machine.
One of the new games that takes advantage of these features is Epic's Infinity Blade: Dungeons. Watch the Infinity Blade: Dungeons demo video below to see the graphical goodness you can expect on the new iPad.
https://www.youtube.com/watch?&v=4Rp-TTtpU0I
Are you a Basic User?
If you are a basic user, you may want to consider the iPad 2, which is now available for $399. The iPad 2 doesn't come with the beautiful Retina Display or a 4G LTE option, but if all you plan to do is read books, play casual games and make the occasional Facetime call, the iPad 2 may meet all of your needs for $100 less.
Read our iPad 2 review to get a better idea of how the iPad 2 will fit your needs. The video above will walk you through the iPad 2 features.
If you really want to save, you can buy the refurbished iPad 2 for $349.
Would You Consider Anything Other Than the new iPad?
The iPad isn't the only tablet around, even if it seems like that.
We have 5 iPad alternatives tablets that are worth looking at. These tablets aren't so much iPad competitors as alternatives for users with different needs, tastes and budgets.
If the iPad isn't for you, perhaps one of these Android or Windows alternatives is.

As an Amazon Associate I earn from qualifying purchases.