Should I Upgrade to the New iPad?
Like clockwork, Apple released the new iPad on March 7th. And like clockwork, iPad owners started asking, "Should I Upgrade to the new iPad?"
The iPad and iPad 2 sold millions of tablets, which means many potential new iPad buyers already have an iPad. If you are sitting there looking at your iPad, wondering if you should upgrade to the new iPad, we're here to help you figure that out.
If you don't have an iPad, you may want to skip over to, Should I Buy the New iPad?
The new iPad, which Apple is calling the iPad 3rd Generation, is the same iPad we've been talking about for months as the iPad 3. So, if you've thought about buying the iPad 3, you're now thinking about buying the new iPad.
The new iPad comes in black and white and still offers the same three sizes, 16GB, 32GB and 64GB. Every new iPad model comes with a Retina Display, better camera, faster processor and improved graphics. If you need to connect on the go, you can now buy a 4G LTE model. The new iPad commercial below highlights many of these new features.
https://www.youtube.com/watch?v=DJxZ0HVQXo8&list=UUE_M8A5yxnLfW0KghEeajjw&index=1&feature=plcp
New iPad – Should I Upgrade?
Short answer, Yes. If you are able to sell your old iPad and have the funds, the new iPad is a good upgrade.
If you are able to sell your old iPad to Amazon or Gazelle, you can upgrade t o the new iPad for half price. If you are upgrading from the iPad 2, this is the best time to sell your old iPad. If you keep it another year, the price will drop significantly. With Apple products like the iPad, it makes better financial sense to buy a new iPad every year.
5 Reasons to Upgrade to the new iPad
Below you'll find the top 5 reasons you should upgrade from your current iPad to the new iPad. If you want to know which of these features you'll notice most, based on the iPad you already have, check out:
Here are the new iPad features that make it worth the upgrade.
I Need an Awesome Display for Reading and Watching
The Retina Display on the new iPad will bring crisper images and text to almost every interaction you have on the iPad. If you use your old iPad to surf the web, read books and check Mail, the new iPad will deliver better looking text and images to those activities. You can see an example of this in the comparison below. The iPad 2 and original iPad have the same screen technology, so upgrading to a cheaper iPad 2 won't help you out with this new feature.
Don't think that the Retina Display is only for gamers and movie watchers, even though it will provide an awesome canvas for the new 1080P HD iTunes rentals and games designed for the new higher resolution.
I Need a Faster 4G LTE iPad
The new iPad comes with a 4G LTE option. This adds $130 to the base price of the iPad, but if you need the fastest possible connection, this is an excellent way to get it. As you can see in the video below, 4G LTE is way faster than the 3G iPad 2.
If you buy a new iPad 4G LTE model, you will need to choose between AT&T and Verizon. We have a full guide to picking the right 4G LTE iPad for your needs, but it boils down to coverage. Odds are Verizon will be your best bet because their 4G LTE coverage includes 200 million people, compared to AT&T's smaller 4G LTE footprint.
If you buy the new 4G LTE iPad, you don't need to sign a contract, which is excellent for users that only need 4G LTE for trips and vacations. When you have 4G LTE active, you can also use your new iPad as a hotspot to connect other devices, like a laptop, portable game system or a WiFI only iPad. Best of all, there is no extra charge to use your iPad as a hotspot.
I want to Play Better Games
The new iPad has a faster processor and a 4X as powerful graphics chip that adds up to a lot of power for gaming. On stage, Epic Games said that the new iPad is more powerful than the Xbox 360 or PS3.
We'll have to wait and see the games in action, but if this is true, Epic's Infinity Blade Dungeons is just the tip of the gaming iceberg. We should see an explosion in beautiful iPad games over the next year, many of which may only run on the new iPad, or will look much better on the new iPad. Check out this demo below to see what types of games are coming to the new iPad.
https://www.youtube.com/watch?v=4Rp-TTtpU0I
I can only hope that we'll see support for the OnLive controller. Imagine using a controller like the Xbox's to play games on your new iPad on the go, and then mirroring it to your HDTV in 1080P on the new Apple TV.
Exciting right?
I Want to Take Pictures with the new iPad
The new iPad has a vastly better camera. We're not talking a minor upgrade here. For all it was worth, the iPad 2 could have left the camera off for another year. This time around Apple includes the same sensor that is on the iPhone 4S, a 5 lens system and 1080P recording.
That adds up to some awesome sample photos from the new iPad. Keep in mind that these sample photos are taken by a professional, but they are still impressive.
If you want to use your iPad to take photos and to edit them in iPhoto or Photoshop Touch, the new iPad is your best choice, and worth the upgrade.
I want to Talk Instead of Type
The new iPad now has dictation, the same feature that is on the iPhone 4S. This allows you to tap on a microphone button and speak what you want typed to your iPad. This is perfect for users who would rather talk than type on the on-screen keyboard.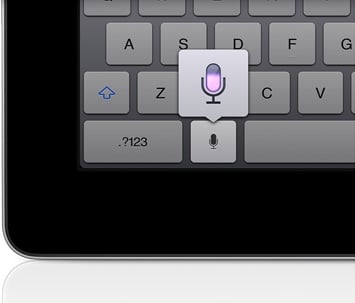 If you are a slow typer, or are looking for new ways to work the iPad into your life, dictation might be the ticket. If you pair this with a bluetooth headset, you can walk around your office dictating to your iPad.
Just please don't do it at Panera.
—
Should I Upgrade from the Original iPad?
If you have the original iPad this upgrade makes plenty of sense. Not only will you enjoy the new Retina Display, but you'll have a significantly faster iPad. The original iPad has a slower processor and less powerful graphics than the new iPad.
This means that the new iPad will provide a snappier web browsing experience and better visuals when you are playing games. All of which will look better on the Retina Display we mentioned earlier.
Read: New iPad vs. iPad 1 vs. iPad 2: Features Specs and Size

Should I Upgrade from the iPad 2?
If you have an iPad 2, you might think that there are less reasons to upgrade, but because of the combination of upgrades Apple included in the new iPad, you will still have many benefits.
Many of our staff didn't use the iPad 2's lackluster rear camera, but are looking forward to the new and improved iPad camera. Add in the faster 4G LTE connection, Retina Display and better graphics and you're in for a new iPad experience.
[polldaddy poll=6015374]