Should I Upgrade to Windows 10?
Microsoft's Windows 10 operating system is just a few weeks away from launch. All along I've been testing the operating system through the company's Windows Insider Program. Extended testing in the Windows Insider Program has allowed millions of users to get a feel for the way Windows 10 looks and behaves. It's given Microsoft the opportunity to act on feedback from real world users.
It's entirely possible that you've missed Microsoft's Windows 10 release announcement and its rollout of the Windows Insider Program. In fact, it's very likely that you haven't heard anything about the operating until this past week. Don't worry, Microsoft has an entire Windows 10 marketing campaign coming for that.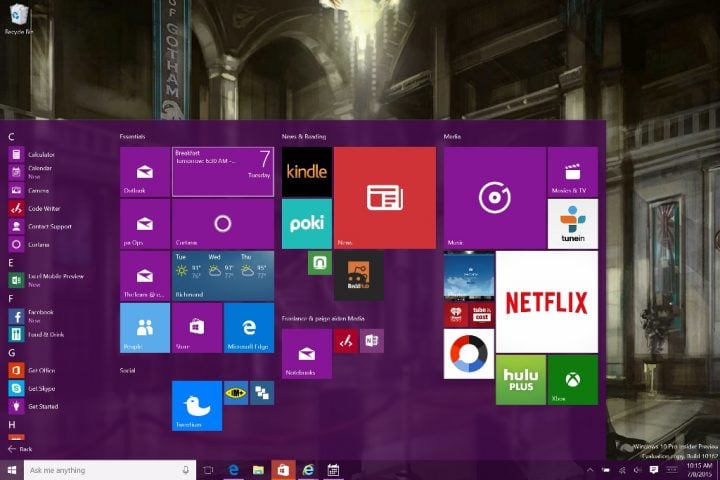 Read: What is Windows 10?
Those who do know about the operating system already are asking if they should upgrade to Windows 10 or keep their PC on their current operating system. I'd definitely say you should prepare to make the leap. Why I think it's a very good idea to upgrade to Windows 10 on your notebook, desktop or 2-in-1 breaks down to into three categories. Windows 10's price, feature set and compatibility can't be beat.
Windows 10 Is Free
Arguably, the most important reason you want to upgrade to Windows 10 is because you can without spending a dime. Early this year, Microsoft confirmed that it'd distribute Windows 10 digitally to anyone who wants it running Home and Professional versions of its Windows 8 and Windows 7 operating system. A simple pop-up surfaces in your Taskbar try asking if you'd like to reserve the update. Say yes and you're added to the list of machines that Microsoft will start updating on July 29th.
Read: How to Get the Free Windows 10 Upgrade
The company likes to throw around the "Windows as a Service" moniker, which is a bit opaque. After upgrading to Windows 10 you'll get updates for free for the life of your device. Right now we know that Microsoft plans to take of Windows 10 PCs for at least five years before moving them to extended support for another 5, according to the Ed Bott Report. Never has the company given away so many new features and experiences to Windows users at no charge. Take advantage for the security and base improvements alone.
Windows 10 is Better at Being a PC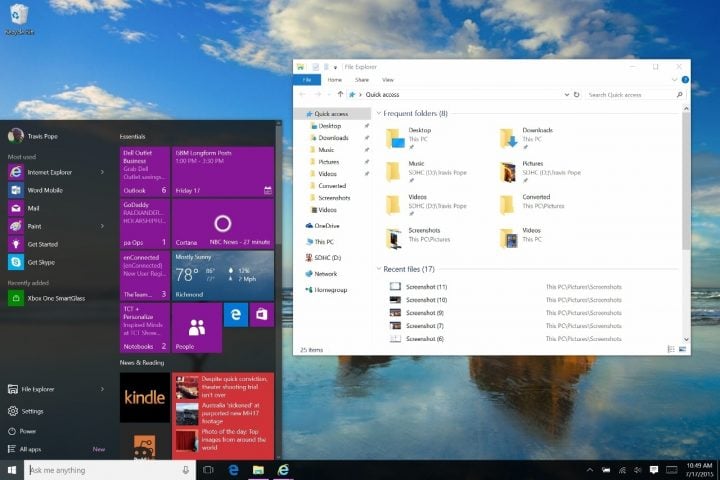 Windows 10 is very much a reaction to how much some people hated Windows 8. If you didn't like Windows 8 you should upgrade to Windows 10 and see what the future of Windows looks like when it's not necessarily being shoved down your throat. Don't worry, you can go back to your previous operating system if you don't like it.
If you don't have a touch screen you'll get a Taskbar and a Start Menu that looks very similar to what's available with Windows 7. Apps open in the Desktop, even if they were downloaded through the Windows Store. Windows supports new file formats like FLAC audio, MKV video and GIF images. There are centralized places for notifications and it performs faster than Windows 7. Common sense operating system upgrades like TaskView, snap suggestions and multiple Desktop support makes the operating system great for mouse and keyboard users.
If you liked Windows 7, you'll like Windows 10 because in many ways it's just an improvement of what's already there, with options to use most things the way you did before. Programs seem to work fine in the operating system, but we'll need to wait at least a month to see if there are any glaring issues with prominent software that just haven't been noticed yet.
Windows 10 is Better at Being a Tablet
At the same time. Microsoft has worked hard to balance the needs of Windows 2-in-1s in tablets. If there's no keyboard attached to your touchscreen device Tablet Mode kicks on, super-sizing the Start Menu into the Start Screen and bringing back all of your full screen apps.
Some have said that Windows 10 is worse than Windows 8. I completely reject that idea. Windows 10 doesn't take away the features that you liked about Windows 8 on tablets. It presents them in a way that makes sense. Edge touch gestures, off-screen app bars and the Charms Bar confused real people.
Edges gestures are in Windows 10, but they are joined by on-screen ways of doing things. You can swipe from the left of your display to open the new Task View or hit the dedicated TaskView button. You can check your notifications by swiping left from the right edge of your screen or by pressing the Action Center button on the Taskbar. All of the apps are still touch friendly and offer more features than their previous versions.
If you have a touch device you need this upgrade.
Windows 10 is Better at Being an Xbox One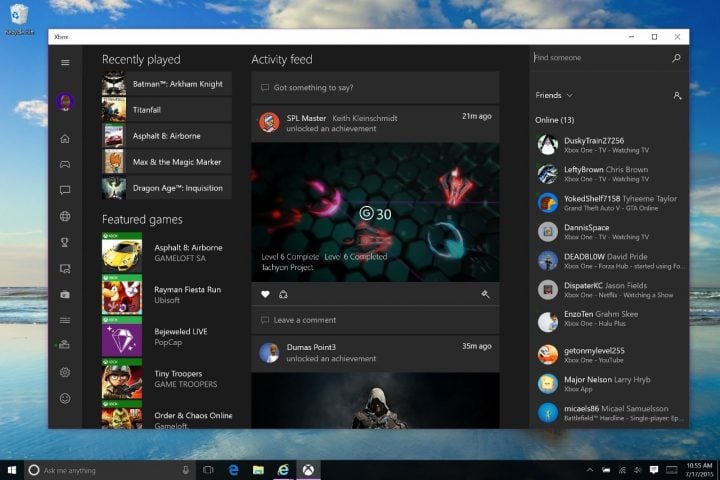 Millions of users have PC gaming rigs at home. I'd wager that many of them are running Windows 7 right now. Microsoft's Xbox Team is ready to welcome those new players to an upgraded gaming experience.
Every PC running Windows 10 comes with an upgraded underlying framework called Direct X12. Direct X12, according to Microsoft, improves performances of games on the same hardware. Also included is a new Xbox app that acts as your one play go for all things Xbox. From that screen you can look at your Xbox friends, send messages and browse for new games to play.
Read: More Xbox on Windows 10 Gaming Details Incoming
Hoping that uniting its platforms would pay off, Microsoft has added support for the Xbox controller directly into Windows 10. Gamers can add deep links to their PC games inside the app and use it as a launcher. It supports video game screenshots and video clips without any extra software. Video game developers can create PC games that fully take advantage of Xbox Live and its different services. For example, Gigantic is launching with support for Xbox Live multiplayer. Users play against other Xbox Live players who are on their actual console.
Honestly, Microsoft has done everything in its power to make Windows 10 a decent operating system upgrade. If your are on Windows 7, make the upgrade. I think you'll appreciate a modern take on Windows. If you're on Windows 8 you absolutely shouldn't have any reservations.

This article may contain affiliate links. Click here for more details.