Should You Buy A Windows 8 PC Before Windows 10?
It was nearly three years ago that Microsoft gave us our first look at what would become Windows 8, the operating system that comes on millions of notebooks, desktops and tablets today. Back then no one knew how an operating system built to meld three different kinds of devices would go over with users. It was unclear whether Microsoft was on the cusp of a major revolution, or again failing to directly address the concerns of real users everywhere.
Today, we know that Windows 8 didn't exactly deliver the best experience for everyone. Microsoft knows that too, and that's why it's hard at work on Windows 10. The problem is that Windows 10 won't arrive on notebooks, desktops, phones and tablets until sometime later this year. Until then, Windows 8 PCs are the only thing on store shelves.
Should you buy a Windows 8 PC right now? It's more complicated and nuanced than a simple one word answer.
No, Don't Buy a Windows 8 PC if You Need the Latest & Greatest
The easiest way to determine whether it's a good idea for you to buy a Windows 8 PC now is to focus on your needs. Too often, we get caught up in how new something is and how it might transform our daily routine. If you often make purchases based on new features and not whether buying is absolutely necessary, I'd stay away from buying a Windows 8 PC right now.
Truth is, as advanced as Windows 8 PCs are – and they are miles beyond what we had before – they can always be better. When Windows 10 arrives we'll definitely see a new crop of devices with additional features and hardware refinements. It's also possible we'll see devices with even great battery life and processing power in even smaller packages. Be honest with yourself; if you have a Windows PC that you think can make it to the fall, I'd say stick with it.
Yes, You Should Buy a Windows 8 PC If You Need One Right Now
It used to be that the easiest way to get the latest operating system on your PC was to buy it with the operating system you wanted already on it. With Windows Vista and Windows 7, Microsoft rolled out upgrade programs that allowed users to buy a PC running an older operating system and get the newer operating system once it was available. Microsoft isn't doing something like that with Windows 8 PCs and the upgrade to Windows 10. This time, its plan is universally beneficial.
Microsoft says that with Windows 10, it's adding a new business model and upgrade plan to Windows. The company is calling it Windows as a service, and it sounds as if it'll work somewhat like the Office 365 subscription it makes available to users today. With Office 365, users pay $6.99 a month or $69.99 and get automatic upgrades whenever there's a new version of Office. We don't know how much Microsoft will charge to keep Windows 8 PCs upgraded after Windows 10 has been out for a year.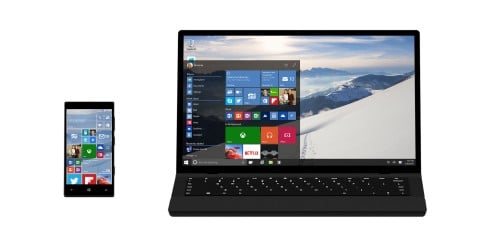 That being said, we do know that Microsoft plans on upgrading Windows 7 PCs and Windows 8 PCs to Windows 10 for free the first year it's available. The company is also promising to keep them updated with new versions of Windows afterward. What that means is that every great Windows 8 PC you can buy now, will get Windows 10 when it is finished and ready. That's a huge weight lifted, half of the reason users hold out on purchasing one piece of technology is that they're worried it might be made obsolete by whatever comes next. That doesn't seem like a possibility here.
It's possible that Windows 10 will miss the Back to School shopping season, one of the biggest sales events of the year for PCs and Macs. If that happens and you need a new PC buy a Windows 8 PC in confidence knowing that you're going to get the latest software.
That doesn't mean you should buy any old Windows 8 PC though. First, look into mid-range or high-end machines if that's what you need. GottaBeMobile rounded up Amazon's best-selling notebooks just a few weeks ago. Impressive PCs not on that list, but worth your consideration include, Microsoft's Surface Pro 3 and the Dell XPS 13.
Read: 5 Best Windows 8 Notebooks & 2-in-1s
You'll want a mid-range PC if you're into doing as much as possible for a reasonable price. You can go high-end if you really want to play games and run powerful apps like Photoshop. Only pick up a low-end Windows 8 PC if your needs are basic. There are some impressive options here too, like the HP Stream Mini and HP Stream 13 notebook.
I'd say it's a great time to buy a Windows 8 PC, provided you can find a device you like with the features you want. If you can't and have a device that can fill in the meantime, definitely wait to see what the Windows 10 release brings in terms of new devices. Windows 10 should launch by the end of 2015.