Should You Buy a Windows Phone over an iPhone in 2014?
There are just three full weeks left in 2014 and they are some of the most important ever. It's these three weeks that'll define the winners and losers going into big industry events next year. How well the iPhone and devices running Google's Android operating system perform will determine what features get marketing priority in future smartphones and where wireless carriers place their marketing dollars. In short, it's absolutely crucial that people buy a Windows Phone in 2014 if Microsoft hopes to keep it viable.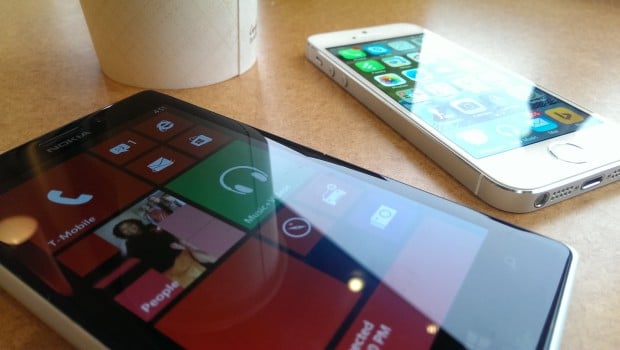 But should users pick one up? After announcing and releasing the Windows Phone 8.1 update, after convincing more companies to make Windows Phones and giving device makers the freedom to practically just install Windows Phone on their Android devices, has Windows Phone hit the tipping point? Does buying a Windows Phone over a popular smartphone like the iPhone 6 even make sense?
Whether you should purchase a Windows Phone over rivals comes down to three factors: phones, price and punctual, relevant updates in the future.
Phones
For as long as it's been available, Windows Phone has had a huge perception problem. Surprisingly, apps aren't it. To the casual buying public, Windows Phones have only seldom had high-end handsets capable of competing with the iPhone and Android's best. Windows Phones have usually had less RAM, and slower processors than what's available on Android and comparable to what's available on the iPhone. Microsoft made up for this by heavily optimizing for a few configurations and trying to guarantee the same experience across at different price points.
Thankfully, Microsoft realized it's easier for people to hear, "Android has better phones" than "We really optimized Windows Phone to take advantage of specific processors and hardware." Today, Windows Phones are every bit as powerful as their Android counterparts and surpass what's available in the iPhone 6. The iPhone 6 and iPhone 6 Plus have a 1.4 GHZ dual-core processor and 1GB of RAM. The HTC One M8 for Windows has a 2.26 GHz quad-core processor and 2GB of RAM. For those who want to simply match to the iPhone 6s' specifications there's the Lumia 830 with 1GB of Ram and a 1.2GHz quad-core processor. The kicker, the Lumia 830 costs $99 with a contract on AT&T and includes a free FitBit fitness tracker. The iPhone 6 is $199.
Windows Phones now have full 1080p screens that are comparable but don't yet completely eclipse the Retina displays found in the iPhone 6 and iPhone 6 Plus. Windows Phone has hardware that is comparable with the iPhone and most Android devices.
Prices
You'd never know it from the amount of people carrying around an iPhone these days, but they continue to be one of the most expensive pieces of consumer technology there are. The iPhone 6, this year's mainstream model starts at $199 with a two-contract. Prices go up from there. The iPhone 6 Plus, the model with a larger screen and optical image stabilization is even more expensive. It's $299 with a two-year contract at AT&T.
Now compare that to the price of purchasing a Windows Phone on AT&T. Today, the Lumia 1520, the Windows Phone closest to what is offered in the iPhone 6 Plus, costs $199 at AT&T. The difference is off contract pricing and storage. The Lumia 1520 costs only $584.99 without a two-year contract and has an SD card slot for extra storage. That iPhone 6 Plus at $299 only includes 16GB of storage and has no option to add more. Off-contract it costs a whopping $749.99. These prices get more interesting when you consider that most American carriers now offer plans that pass on that console directly to users in monthly installments. The HTC M8 for Windows has a large screen, external storage and 32GB of built-in storage for $199 with a two-year contract at AT&T. That's the same price as Apple's iPhone 6, but with more storage and a few extras.
Punctual Updates
The iPhone is the gold standard for updates. Simply put, when you have an iPhone you're guaranteed updates for years. These updates come out every year and they consistently add new features. It's updates that should make you pause before you purchase a Windows Phone in 2014.
Read: What is Windows 10?
Microsoft announced Windows 10, a melding of different Windows operating systems across the board, a few months ago. Promising apps and an interface that works across devices, Windows 10 for phones is expected to be a very different experience from Windows Phone 8.1. Windows Phone 8.1 is the operating system that's available on all devices today. Microsoft has confirmed that today's Windows Phone users will get the update, or at least be eligible for the update. Unfortunately, Windows Phone lets carriers stop updates in their tracks. If you're looking for a sure-fire way to get Windows 10, waiting to purchase a Windows Phone until 2015, is a sure fire way to get the update when its available.
If you're willing to tinker with your device, Microsoft does make updates available early through the Windows Phone Preview Program.
Should you buy a Windows Phone over an iPhone? That's up to you to decide. Can you purchase a Windows Phone now and get features that are comparable to the iPhone 6? You absolutely can. Think about what features you want and the devices you already have and make your decision from there.

As an Amazon Associate I earn from qualifying purchases.