Shure MV5 iPhone Microphone Review
When it comes to recording high-quality audio straight to your iPhone, the Shure MV5 microphone to get the job done.
In wasn't that long ago when the only way to record decently high-quality audio was to use really expensive microphones connected to a mixer that then connected to a source for recording, like a computer. This is still done in recording studios for the best audio quality possible, but recording technology has advanced greatly over the last few years.
There are a handful of iPhone microphone options available that come with Lightning connections, which means they can plug directly into your iPhone or iPad without any other tools or cables needed, which is pretty cool. However, the $99 Shure MV5 stands out because of its affordable price, great recording quality, and its dashing good looks.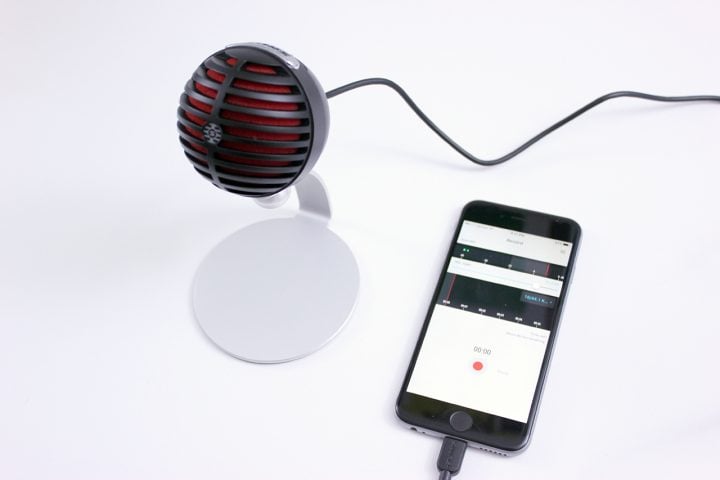 The MV5 is a small-diaphragm condenser microphone, which means that it has a wide frequency range and is more sensitive overall. This type of microphone is great for recording things with generally higher tones, like acoustic guitar and cymbals on drum sets, but it works well in many different scenarios.
The microphone itself is literally the shape of a sphere that's just a bit smaller than a tennis ball. It also comes with an aluminum stand to prop it up as you're recording, and you can adjust the angle by loosening the 1/4-inch mounting screw and tightening it back down when you have the right angle that you need.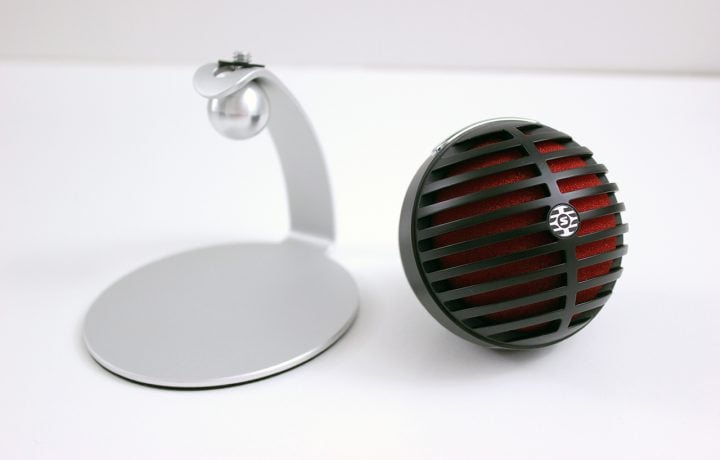 The 1/4-inch mount lets you easily attach it to a tripod or anything else with a 1/4-inch male screw mount, but you'll need an adapter in order to mount it to some mic stands (something like this), since many mic stands use a different-size thread. If you're serious about recording, you'll want your own mic stand anyway instead of using the small stand that the MV5 comes with.
On the back, the mic has a microUSB port that allows you to plug it directly into an iPhone or a computer (using a Lightning cable or USB cable, respectively). There's also a headphone jack so that you can plug headphones directly into the mic to have live monitoring. This is great so that you know if your audio sounds good or not without having to record first and then play it back to make sure it sounds okay. There's a volume adjuster on the mic so that you can adjust the volume of the headphones if need be.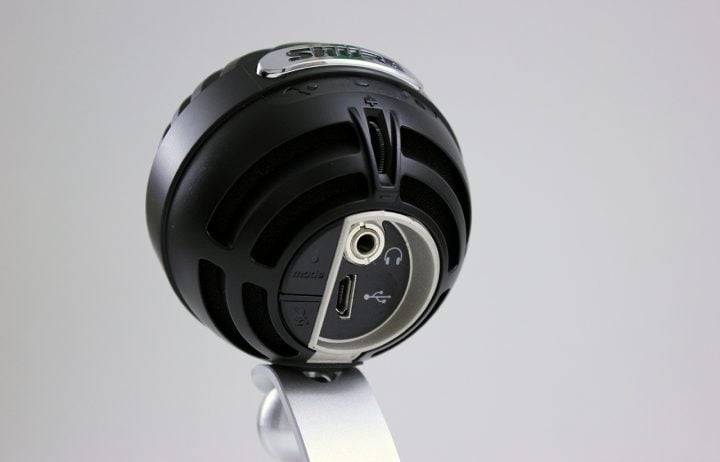 As far as buttons, there's a mute button for the mic, as well as a button change the different modes. There are three different modes: one for recording vocals, another for recording instruments, and then a neutral mode that's optimal when you need the best of both worlds.
The MV5 can work just like a regular mic does when you plug it into a computer, and on the iPhone you can use it in the Voice Memos app and even use it during FaceTime calls if you want. However, in order to get the most out of the MV5, you'll want to use the ShurePlus™ MOTIV™ Mobile Recording App.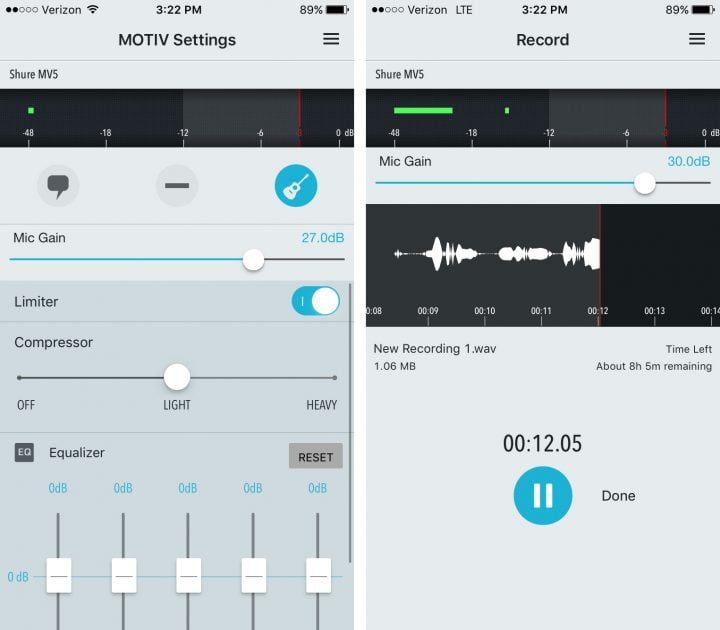 The MOTIV app is just a recording app at its core, but it comes with a handful of cool features that unlock the MV5, essentially opening up the gate and letting the horse run free. You can adjust the gain, compressor, and even change around values in the EQ if you want finer control over bass and treble.
When you're done recording, you can share it to a variety of services, including Facebook Messenger and Gmail, as well as save it to your Evernote account or in the Notes app, Dropbox or Google Drive.
Of course, the one thing you've been really wanting to know is the audio quality of the mic itself and how well it records.
First off, let me say that I'm no audiophile by any means. I'm not one to get super picky about the quality of a recording, and if the levels are where they need to be, then I'm good to go.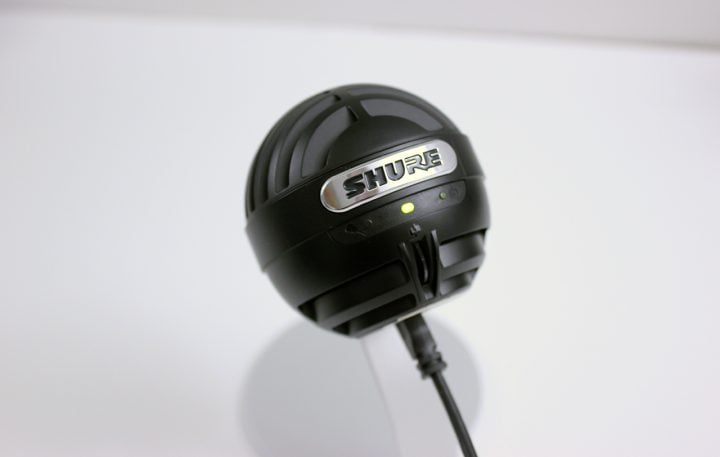 However, I have spent my fair share of time in high school and college playing in bands and recording podcasts. My minor was in Media Production, so I got to spend a lot of time around video and audio equipment. From that, I at least know what sounds good and wasn't doesn't sound good when something goes through a microphone and comes out of a speaker.
With that said, I can say that the Shure MV5 is way better than the recording capabilities of the built-in microphone on the iPhone, but that's to be expected when you're spending $100 on an external mic to use with your smartphone. With vocals, the bass response is really good, and you don't get any of those annoying pops and harsh "S" sounds that would otherwise require a pop filter.
Would you get better recording quality if you spent several thousands of dollars on a mic, mixer, pre-amp, etc.? Of course you would, but you really can't beat a portable microphone that you plug directly into your iPhone and costs only $99, but why tell you how recordings sound, when you can listen first-hand to Shure MV5 samples that I recorded right on my iPad.
[soundcloud url="https://api.soundcloud.com/playlists/158194378?secret_token=s-qbEM1″ params="auto_play=false&hide_related=false&show_comments=true&show_user=true&show_reposts=false&visual=true" width="100%" height="450″ iframe="true" /]
Above are three audio samples of recordings from the Shure MV5. One is a vocal sample, and the other two are instruments (acoustic guitar and ukulele with a bit of humming).
The microphone placement could have been a bit better for the ukulele sample, since I had the mic slightly closer to the instrument than the musician's mouth, which made the ukulele a bit overpowering, but this is something that you can easily adjust yourself to make it sound better, and it's not a knock on the microphone at all.
Furthermore, the MOTIV app can help you fine-tune the quality of your recording, so if something sounds a little flat or you want a bit more vibrant sound, you can play around with the settings in the MOTIV app to make things sound exactly how you want them to sound.
The Shure MV5 is available to purchase on Amazon and at other retailers.