Sierra Wireless Overdrive: One Picture Says it All
As I mentioned earlier, I was really looking forward to using my Sierra Wireless Overdrive to cover CES 2011. Unfortunately, the experience was almost a complete bust. My 4G connection was up and down like a YoYo. By the second day of the show I was tired of how unpredictable it was and started signing on to others' wireless hotspots.
At CES 2010 a number of bloggers were reviewing the Overdrive and were more than pleased with speedy WiMax. I was hoping to experience some of that first hand this year, but I didn't.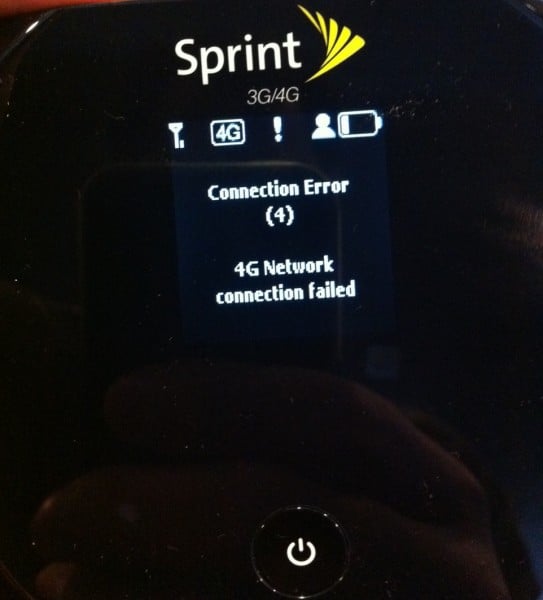 I didn't have time to figure out what was wrong with my Overdrive and/or Sprint's service, but this picture I took while at Las Vegas International airport on my way out of town perfectly sums up my frustrations.
From left to right:
I saw one or two bars most places I went.
The device seemed to fight almost too hard to stay on 4G. How about switching over to that 3G network?
The alert symbol indicates there's something wrong…even though there were no alerts when I went to go check in on the Overdrive dashboard. Apparently the Overdrive knows its dysfunctional, but can't figure out why. The dashboard says an update is available, despite the fact that it already has the latest firmware.
Battery life was way too short and an external battery/solution would be necessary if I could actually use it for more than a few minutes at a time.
Yes…it failed. Not just in a crowded convention center, but also at a big, giant airport, where I assume a lot of Sprint customers want to get online via 4G.
With the introduction of the Novatel MiFi 3G/4G, I can't imagine the Overdrive is long for this world. It's bulky and according to one engineer I spoke with at CES 2011, pretty much slapped together so Sprint could have something to sell as WiMax was lit up from market to market.
I'm planning to return it to the Sprint store where I bought it and switching over to my 3G MiFi (2200 series) until the 3G/4G MiFi or LTE MiFi become available.