Sign Documents on Your IPhone with Zosh App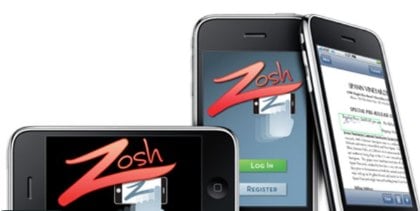 One of the benefits of owning a Tablet PC is being able to sign a document with digital ink and send it back post haste. It is always impressive when you do this with a client, and in fact, it is one of the many benefits of Tablet computing with ink. Just this week, I heard Andy Ihnatko talking about wishing he could do this on the most recent MacBreak Weekly. The Gizmodo post where I picked this up also bemoans how much of a pain signing a document can be. Of course all those Tableteers who have  have known about this for years cower a bit and wonder what might have been had the Tablet PC saga turned out differently.
Well, there's an attempt at offering this sort of signature functionality on the iPhone through and app and service called Zosh. Yep, you sign the document with your finger. You can date the document. At the moment though this only works with PDFs. The way it works is you forward the document to the Zosh service and then work with it from there, so it isn't a direct path to putting your John Hancock on the PDF.
We'll follow how this develops. But in the meantime, I've got about a dozen documents that need my signature so I'll just do so on my Tablet PC. Something I've been doing for years.

Zosh iPhone application video demo from Joshua Kerr on Vimeo.
P.S. Mark my words, if Apple does ever release the mythical Apple Tablet, and it includes some form of Inking, this will be a feature that will be touted to be as  big as a second coming.