Sign on the digital line with docuPAD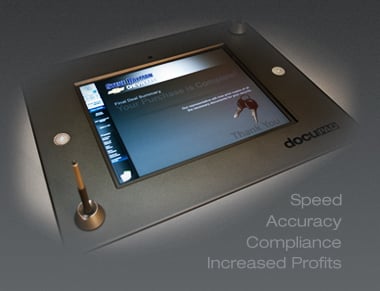 Good news: next time you buy a car, you might hash out the deal over a docuPAD, a pen-input screen designed to digitize the financial form-filling process. Bad news: you'll probably get talked into buying LoJack and a service contract.
docuPAD from COINdata is essentially a 19″ pen-input display that fits into a desk surface. The technology involved is not stated but from the demo video, I see that the screen does not respond to touch, so clearly it's an active digitizer system. Pen holders are located at either side of the display.
The software displays forms in familiar print-style formats, as opposed to webpage-style forms. Tap a button and the form can swivel to a corner or all the way around allowing everyone at the table to sign on the digital line. It also gives the salesperson the ability to show off charts and animations explaining why add-ons like LoJack and service contracts are critical. According to their data, the tactic works, increasing sales and profits while also cutting down on paperwork time.
docuPAD isn't as flashy as a multi-touch system like Microsoft Surface, but for financial transactions, the pen is all-important.
Via Automotive News, thanks to Travis for the tip

This article may contain affiliate links. Click here for more details.