Sign PDFs with a Windows 8.1 Tablet
Like it or not, that tiny slice of cotton and dead trees that we use to print documents on, is quickly becoming a relic of days and years past. It used to be that when we needed to formally accept a document and convey an understanding of we signed it with a pen and then faxed it over to the place it needed to go. More and more we're ditching paper and faxes. Instead, we're signing things on our laptops and desktops and emailing them to those who need them. Here's how to sign PDFs in Windows 8 on a tablet.
Before we began it's important to understand a few things. First, the device we're using is running Windows 8.1, the latest version of Windows 8. That means, that what you'll see in the examples here will look slightly different from what's available on your screen. If you're worried about things not matching up with your machine then download the Windows 8.1 update. It's free and available in the Windows Store. Just look for the purple banner on the left that says "Download Windows 8.1" if you don't see that banner in the Windows Store on your device than you're already running Windows 8.1.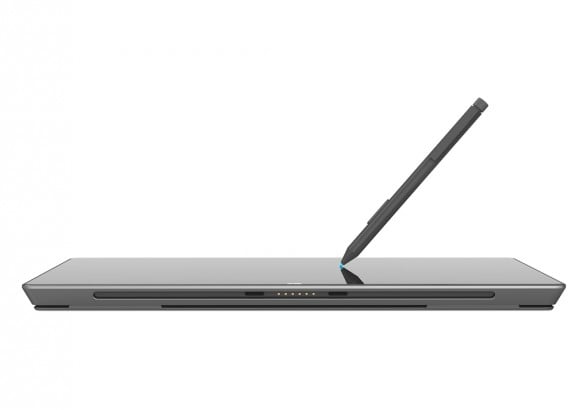 Next, you'll want to go ahead and grab the PDF document you're trying to download. In this example we've downloaded ours from Mail, Windows 8's built-in email client. It's entirely possible that the PDF you're trying to sign may be on a flash drive or an email service different from the one we're using. If that's the case, make sure you download the PDF to your Desktop before starting this tutorial. Let's begin.
Downloading the PDF in Windows Mail
The fastest and easiest way to communicate with people has always been and will probably always be email. If someone is trying to get a document to you for a signature, ask them to email it. Here's how to download PDFs in Windows 8 from Windows Mail before you sign it.
Go to the Start Screen by pressing the Windows key on your keyboard or the Windows button near your device's display. Look for the Mail application on the Windows 8 Start Screen. It's represented by a light blue Live Tile with an envelope on it. Click or tap on it.
Now that you're inside Mail look for the email with your PDF you're trying to sign.
If a PDF is attached to the email, then you'll notice a bright orange square at the top of the email. Right click on that PDF with your mouse or place your finger on the orange square and hold your finger down to reveal a pop-up menu. Tap or click on Save.
Click or tap on the Go Up button twice until you get to the Desktop. Click or tap on Desktop. Then hit Save in the bottom-right corner of your screen.
Now your PDF is saved to the Desktop.
Signing the PDF
Go to the Desktop by clicking on the Desktop tile on your Start Screen. There you should see the PDF you downloaded.
Tap or double-click on the PDF to open it. Instantly an app that you've likely never used before will pop-up with the document you downloaded. It's called Reader and it's included with Windows 8.1 by default. You don't have to download Adobe Reader or any other reader to sign your documents or even look at them as long as you're running Windows 8.1 on your tablet or convertible.
Find the place that you need to sign and use your stylus to sign the document.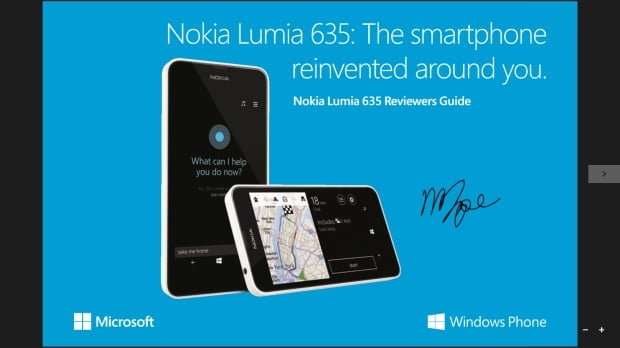 Now you need to save it. Touch users should place their finger on the bottom edge of the screen and swipe up from the right. Mouse and keyboard users should right-click anyone on the screen. Both reveal the App Bar.
Tap Save.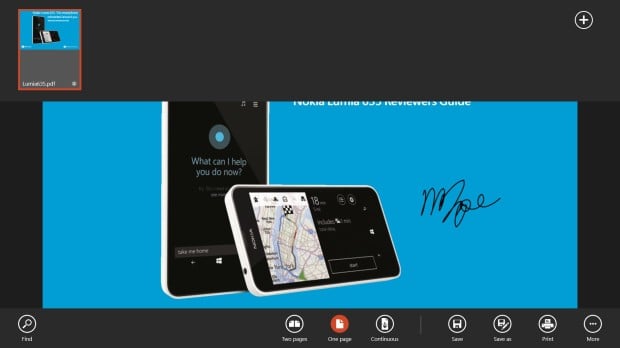 Now email it back to the person you need to get the document to using the Mail app as an attachment or on a flash drive.
To be clear, this method isn't necessarily restricted to Windows 8 tablets or convertibles. The Reader app is available in all versions of Windows 8.1 regardless of whether they have touch or not. The trick is all in the methods of input your device has. If you have a Surface or Surface Pro device with touch than you should be able to sign documents just fine. If your device supports a stylus through a touch screen or otherwise than you're fine.
If it doesn't have touch than you may still have to resort to downloading a third-party program like Adobe Reader. In that case, signing the document works the same way, you'll just need to use your touchpad or add your signature in text instead.
Read: How to Sign PDFs on the iPhone
You can documents on your smartphone too.

This article may contain affiliate links. Click here for more details.