A Tour Through Silicon Valley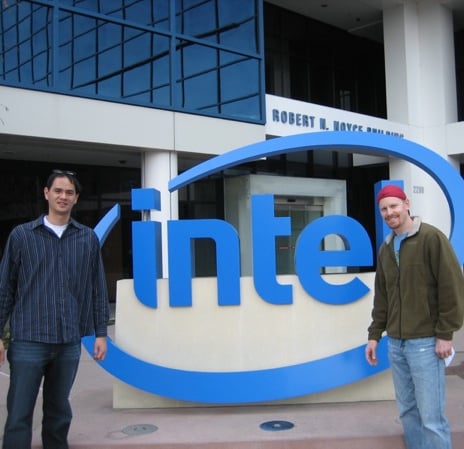 My wife and I have been fortunate to visit my brother-in-law in Mountain View, California, this week. Part of the agreement my wife and I made while out this way was that we each had one full day to plan whatever events we wanted. I was not surprised when my wife decided that that we would be visiting Napa Valley and the many beautiful vineyards. She was also not surprised when I declared that I wanted to hit up the hotbed of the Internet age, Silicon Valley.
During our trip, I was glad to have the opportunity to meet up with our own Xavier Lanier for a personal tour of the valley. As you see in the pictures, Xavier escorted us by the headquarters of the biggest players in the tech industry. I can easily admit that things on the West Coast are much faster than what I am accustomed to in the great Midwest. Rather than cornfields, cows and tractors, are thousands of brilliant minds rushing to-and-fro, making important decisions that often have to do with lots of money. Like Xavier said, it's easy for someone not in the valley to assume a few people sit around at HP and produce the products we use ever day. In fact, I was surprised at how massive the entire operations seemed. Gazing into the campus headquarters of these giant companies highlight how many contributors and creative minds are a part of the process.
Our stops along the tour included a visit to the Computer History Museum, a soon to be expanded museum that has captured the boom of technology and the Internet. Exhibits included a fully functional Babbage Engine, the first Apple computer, and the iPad's great-grandfather, an Apple Newton. It was somewhat odd viewing exhibits of technology from the very recent 80's and 90's.
The final stop on our tour was to Intel's museum. This facility had many interactive exhibits that primarily highlighted Intel's rich microprocessor history and their contributions to the computer's success. Upon our tour's close, I convinced my wife to drive with me to one more company headquarters, Apple's One Infinite Loop. I felt the trip to Apple's campus would fully complete the collection of me standing by company signs, and it was on the way to nearby shopping in the town of Saratoga. I had to satisfy my wife with a little window shopping for accompanying Xavier and I on our geek tour.
It was great to meet with Xavier and discuss tech issues, politics, and family. Xavier is committed to bringing quality content and talent to our Notebooks.com and GottaBeMobile sites. I can tell you that Xavier and the entire Notebooks and GottaBeMobile team is in good hands. If you've not been to Silicon Valley and you're a geek, you've just added one more thing to your bucket list.
Check out a few pictures from our tour and let us know what you think of Silicon Valley in the comments.

As an Amazon Associate I earn from qualifying purchases.