SilverLight and Ink On The Web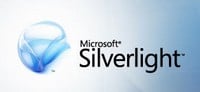 Yesterday at Mix07, Microsoft unveiled its Sivlerlight platform to developers. Silverlight is a cross platform (IE, Firefox, Safari and I'm guessing others) web development tool allowing for easier, richer, and sexier methods of inserting video and media into web applications. Of course that's what all the buzz is about as everyone is racing for the on-line media golden ring.
But what caught my eye is that Silverlight also has an Ink Componet as well. This should open up opportunities for web developers to include Ink in their rich web applications. Gavin Gear points this out and also a couple of Ink-enabled applications for you to check out at this gallery link. (You have to install the Silverlight beta to actually run them and you are instructed to when you try to

access the applications.) The two applications are Ink Tattoo Studio and Page Turn.
Last night Matt Faulkner did his own GBM tattoo on the Tattoo application and he said it was painless. (Click on the thumbnail for a larger view.)
I'm glad to see this development (not Matt's tattooing) with Sivlerlight as I've been concerned that Ink was going to be left out of the picture with the push to web services and web applications. Now it looks like Ink will be right there in the Mix.

As an Amazon Associate I earn from qualifying purchases.